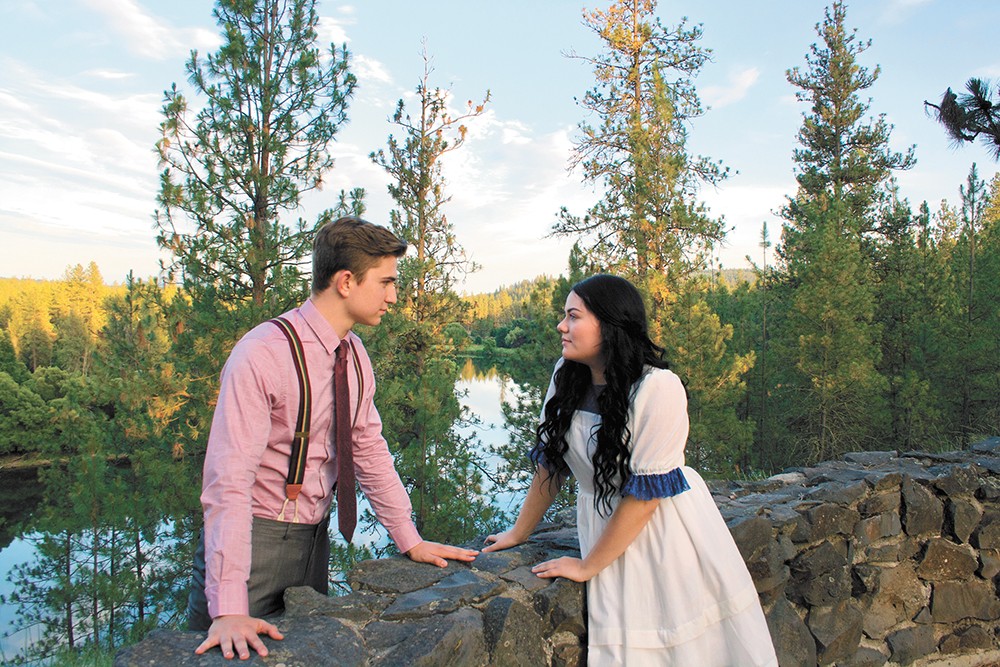 Abbreviated rehearsal schedules are nothing new in the theater world, but with Spring Awakening, the Spokane Civic Theatre's first fully fledged, main-stage summer production in recent memory, the usual time constraints were even more unforgiving. With less than four weeks between the close of Young Frankenstein, the community theater's 2018–19 season finale, and curtain up on Spring Awakening, the prep and rehearsal period was already fairly tight.
What lent everything a further sense of urgency was the fact that Jake Schaefer, the Civic's creative director, was tasked with overseeing the back-to-back productions — although not without help. Local actress Sarah Dahmen served as Schaefer's assistant director on Young Frankenstein and then moved into a co-directing role for Spring Awakening.
Both Schaefer and Dahmen say that their pairing has so far been ideal, two complementary parts forming a greater whole. During Young Frankenstein, the two found they'd established "a pretty cool groove," according to Dahmen, in which her "straight" — that is, nonmusical — theater background helped to augment Schaefer's musical strengths. Continuing that symbiosis on the summer production seemed natural.
"Sarah has an extremely specific perspective of detail and she's got great ways of communicating that to different people," Schaefer says.
He notes that "the varied talent range" in a typical community theater production often makes it necessary to be able to relate to actors and crew with different degrees of skill and experience. With a brief rehearsal period coupled with a nuanced show like Spring Awakening, leveling those differences and making the show "approachable for anyone," especially its cast, became even more important.
"The cold, hard reality is that this one is weird in that the kids love [Spring Awakening]. It's like my generation's Rent, right? It's cutting edge and really tough material, but at the same time they idolize it because, for them, when they first heard it or saw it, it was edgy. And the music was cool. That's the first perception. But when you get into it, the source material is an 1891 German play. There has to be a close connection to the material and the characters."
Developing that close connection means that the straight scenes for which Dahmen is responsible have to mesh fully with the musical ones that Schaefer is handling. As co-directors, then, each has to bring their individual talents without necessarily leaving a conspicuously individual mark.
"From a collaboration standpoint, I have a jump-in point where [Jake] left the actors in these spaces and these emotional places onstage," Dahmen says. "I get to pick all of that up and plug it into a scene — not just to make it move seamlessly from music to the straight aspects of the scene, but to further his work and move the story forward."
"Something that we learned out of Frankenstein is that Sarah and I could finish each others' sentences all day long," Schaefer adds, "but we must be on the same page from the jump. Before we did anything, we blocked the show on paper together and then photocopied it, so the actors are having us, the directorial team, speaking the same language to them."
Dahmen likens their co-directing approach to "parenting in a two-parent household." Which could also apply to the performance itself, given that she's pulling double duty as Spring Awakening's solitary adult woman — a role that, along with the rock musical's solitary adult man (played by Danny Anderson), encompasses multiple parental and authority figures in this intense, sexually charged show about the timelessness of teen angst.
In the principal roles are young actors such as Aaron Jerry Skipper (playing clever, rebellious Melchior) and Elizabeth Martin (naive, beautiful Wendla), Jonah Taylor (tormented Moritz) and Aubree Peterson (fiercely free-spirited Ilse).
Skipper is a relative newcomer to the Civic who "has done lots of local theater, namely, Christian Youth Theater productions," Schaefer says. During the early casting process, he was in line for one of the supporting roles. "And then his read was unbelievable. There's been no looking back."
Martin, on the other hand, "has been in the community since the single digits" and has appeared regularly in Civic ensemble roles. "She's a classically trained singer, studied with [local mezzo-soprano] Patti Mortier for 10 years. Her reads were beautiful. She's got the whole thing going on."
Tying together all of these elements — the disparate cast members, the co-directing and even the emotional complexity of the show itself — called for a common touchstone, which is why Schaefer and Dahmen chose to emphasize a "through-line" of empathy. That way, the characters and their often tragic, very human situations can resonate with audiences without the appearance of taking sides.
"This could be seen as a morality play, where people are making different choices," Dahmen says. "We don't have an agenda to say, 'This choice is good, this choice is bad.' We're building a world of flawed human beings who are complicated, who are absurd and funny and sad and lonely. But there's no judgement within that context. The audience can make their own moral judgements, and that's where the conversations are had well after the show." ♦
Article by E.J. Iannelli for The Inlander