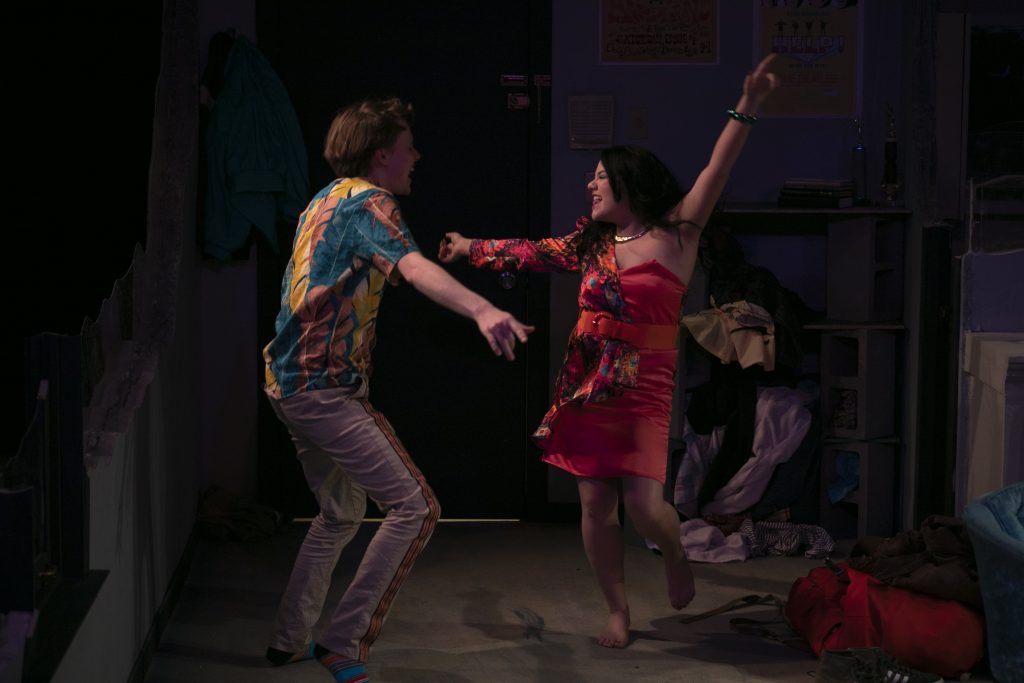 Director Andrew Start's last play at Spokane Civic Theatre, Annie Baker's "The Flick," found him directing three actors – two men and a woman – in their roles as misfit ushers in a rundown theater. Throughout the play, the three leads chat while sweeping up popcorn and running a film projector. And … that's about it.
His next Civic play in the director's chair, Kenneth Lonergan's "This Is Our Youth," is similar, once again featuring three actors – two men and a woman. Only this time, shifts at the movie theater have been traded for two days in an apartment on the Upper West Side of Manhattan.
"I guess I'm maybe attracted to that kind of thing," Start said with a laugh. "I teach realism. I teach Uta Hagen and Meisner techniques for acting, so these kinds of plays lend themselves to my skill set."
"This Is Our Youth" opens Friday and continues through Dec. 8 in the Firth J. Chew Studio Theatre. The play follows three teens, Dennis Ziegler (Denny Pham), Warren Straub (Jacob Carruthers) and Jessica Goldman (Elizabeth Martin) as they hang out in Ziegler's apartment.
Straub has just been kicked out of his abusive tycoon father's house, but not before stealing $15,000 from him. Straub hopes to use the money to sweet talk fashion student Goldman into bed, but Ziegler spends some of the money on cocaine in hopes of selling it for even more.
All the while, the trio attempt to come to terms with the conservatism of the Reagan Era in which they live.
"The characters' parents and the characters have given up on the liberal dream that they cultivated," Start said. "Their parents in the '60s and their kids growing up in the '70s under their wing and they're seeing this world change and become much more polarized and conservative than they imagined it would be in their Upper West Side, middle-class Jewish bubble."
To bring audiences into that bubble, Start has designed a set similar to a shoebox diorama. The four walls of Ziegler's apartment, Start hopes, will give the audience a sense that the trio is trapped in the space and that "all they have is each other."
"That's what causes the events of the play to unfold," Start said. "I think that's what also causes the characters to have the discoveries about themselves that are really what the play is. It's not so plot-driven. It's not big, exciting plot twists. Their relationships change because of the circumstances."
"This Is Our Youth" premiered Off-Broadway in 1996. It was again performed Off-Broadway in 1998. The play premiered on the West End and in Australia in 2002 and on Broadway in 2014.
Start was pretty familiar with "This Is Our Youth" before he signed on to direct, even choosing a scene from the play to study while a student at Active Theater in New York. Through grad school, apprenticing with his teacher and his own teaching career, Start estimates he's seen scenes from "This Is Our Youth" performed dozens of times.
"It's that classic piece that you give young actors when they're first wanting to dig a little deeper and explore naturalism," he said. Even still, it wasn't until he began working on this production that he noticed the theme of nostalgia that runs through it.
After researching the play, Start believe that it was a "twisted love letter" to Lonergan's own youth on the Upper West Side, as well as his parents' generation. Start highlights elements like Ziegler and Straub's love of Zappa and Straub's affection for a box of collectible toys, including one he inherited from his grandfather.
"I don't know why I didn't see it before, but that's a theme that I've been exploring and asking questions about," Start said. "What does nostalgia do for us? How does it make the present better to be able to wander into a glossy memory of better times? I've tried to highlight that a little but in the show.
"I feel like in our production, what I'm liking about exploring this theme is that it brings more heart and more nuance and more warmth into the production that I think could otherwise just be teens yelling at each other and making bad choices."
Article by Azaria Podplesky of the Spokesman-Review
Photo by Marlee Andrews