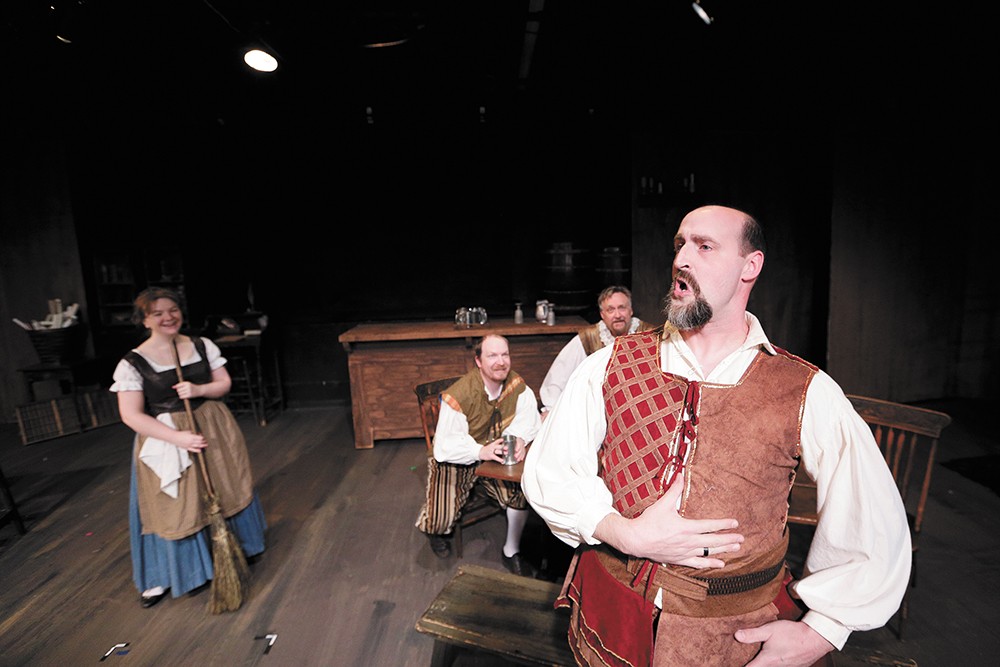 Imagine for a moment a world in which William Shakespeare's work had never been preserved.
There would be no Romeo and Juliet, no Hamlet and no The Taming of the Shrew — and in turn no West Side Story, no The Lion King and no Kiss Me, Kate. Phrases like "the winter of our discontent," "wild-goose chase" or even "good riddance" might not have entered the English language. Even the visual stereotypes of actors would change. Without Hamlet's existential "to be or not to be" soliloquy, why else would they always be depicted holding skulls aloft in brooding contemplation?
If it weren't for John Heminges and Henry Condell, that diminished world might have been our own. The two were players in the King's Men, the famed acting troupe for which Shakespeare wrote. After the playwright died in 1616, they worked against considerable odds to gather, edit and publish his work in a collection that would become known as the First Folio.
In 2017, nearly 400 years after the First Folio appeared, playwright Lauren Gunderson dramatized Heminges and Condell's efforts in The Book of Will, now in production at the Spokane Civic Theatre under the direction of Susan Hardie.
"She's real hot stuff these days," Hardie says of Gunderson. "I believe [she's] the most-produced playwright in the United States. And she's taken this story and humanized it beautifully, peopled it with extraordinary characters based on real life. She didn't have to go very far to create a universe of big, bold, wonderful, strong characters."
Joining Heminges and Condell, played by Jamie Flanery and Kelly Hauenstein, is a who's who of the Elizabethan stage. It includes Richard Burbage (Damon Abdallah), "the most esteemed actor of his time," and the man considered to be England's first poet laureate, Ben Jonson, "another wonderful, big personality."
Jonson is played by Bill Marlowe, who retired from Spokane Falls Community College this past spring. At SFCC, Marlowe had long chaired the drama department and was known for his front- and backstage involvement in numerous Shakespeare productions. By his count, he's directed or performed in close to 30 productions of 15 different Shakespeare plays over his career.
"We had looked at Book of Will and also Shakespeare in Love, and we decided to do Shakespeare in Love. So when the Civic decided to do Book of Will, I said, 'Oh, my goodness gracious, I want to do that show' because I had already read it and knew it and loved it. This play strikes a personal chord because my background is very strong in classical movement, classical acting, and I have a specialization directing and acting in Shakespeare," he says.
Marlowe says the added appeal of Book of Will is that it's "organized much like a Shakespeare play" and is fueled by themes that are common in Shakespeare's own work.
"The playwright talks about three things. She talks about love. She talks about loss. And she talks about legacy. That last one speaks to me personally because that was a very important thing for me at the Falls — to be sure that I left a really strong legacy. And it's exciting for me, now that I'm retired, to be able to do what truly my first love is, which is acting."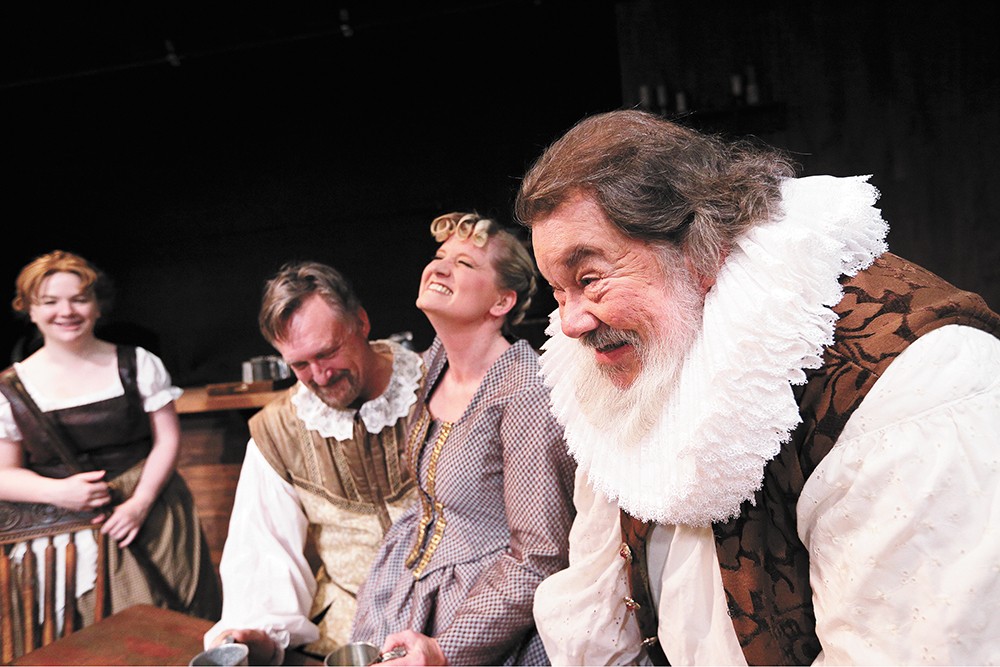 The Book of Will is giving Marlowe more than enough opportunity for that. In addition to playing Ben Jonson, he's also performing three other roles. One is Sir Edward Dering, who was an antiquarian, a reluctant soldier and would-be religious reformer.
Having to adopt multiple roles isn't unique to Marlowe. Actress Tami Rotchford is playing Condell's wife Elizabeth as well as Emilia Bassano Lanier, England's first professional poetess. Rebecca Craven plays Heminges' wife, also named Rebecca, plus Shakespeare's wife, Anne Hathaway.
"We have a cast of 10 who are performing 26 roles, with some playing as many as four characters," Hardie says. "It's frankly such a joy for actors to take this kind of a challenge on, and I think they're all having a great time with it."
Dawn Taylor Reinhardt, who originally hails from a town near Manchester, England, and works as a local acting coach, is meeting regularly with the performers not only to fine-tune their accents but to use specific dialects to better distinguish their characters.
"We're blessed to have Dawn on task. The actor who plays Isaac Jaggard, for example, who is the son of the rather unscrupulous printer, is Eli Drushella. Isaac is sort of a gentleman. But Eli also plays Ed Knight, who's the stage manager at the Globe Theater. So there's a whole different way of speaking, a whole different way of being," she says, adding that Jan Wanless' inspired Elizabethan costuming has been essential in pulling that off successfully.
As the actors in The Book of Will quickly morph into different roles, the set has to morph around them with equal speed. Gunderson's script keeps things moving pretty swiftly, which has proved to be one of the play's more challenging aspects.
"It really has to fly," says Hardie. "So we have five major set pieces that become different things in different scenes. The bar in the taphouse becomes the printing-press table in the next scene. We've devised scene changes such that the actors come out in low light and everything is transitioned with period music."
The show's brisk pace, vivid characterization and universal touchstones are all qualities that Hardie believes help it stand out among historical dramatizations.
"Gunderson has taken something that people might think is a stuffy kind of story about getting Shakespeare's plays together — yada, yada, yada, yawn — and turned it into a glorious romp that is beautiful and funny and very touching at times. It's full of the kinds of emotions that Shakespeare would have put in his own plays," she says. And it's thanks to figures like Heminges and Condell that we know that to be true. ♦
Article by E.J. Iannelli of the Inlander
Photos by Young Kwak of the Inlander