Fall into Fall
Fall is always a great time at Spokane Civic Theatre. Falls means the start of the theatre season. And not just for Civic, but for WestCoast Best of Broadway, Lake City Playhouse, Interplayers and more. Fall also means it's time for Spokane Civic Theatre's annual fundraiser In Concert. And as many of you know, this year, we're featuring Songs for a New World composed by Jason Robert Brown. Fall into fall, my friends and enjoy the best all of our our local theatres have to offer and seize the moment. In fact, seizing the moment is, in many ways, what Songs for a New World is all about. That moment in time where we are forced to make a decision. As Jason Robert Brown puts it:
"It's about one moment. It's about hitting the wall and having to make a choice, or take a stand, or turn around and go back."
And right now, we are falling into our In Concert. Opening this weekend for only two shows (including a talkback with Jason Robert Brown), Songs for a New World features some of Spokane's best instrumentalists and vocalists. Last week we introduced you to Robby French who is singing Tenor in Songs. This week, how about a peek into the work of Andrea Dawson singing Soprano. You've seen her before. C'mon, White Christmas, Season of Inspiration mean anything to you? So, let's get this interview started.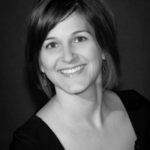 Meet Andrea Dawson
Spokane Civic Theatre: Tell us a little bit about your history with Spokane Civic Theatre. What productions have you been in and what roles have you played?
Andrea Dawson: My first show with civic was Guys and Dolls in 2002 as part of the chorus. After that I really became involved with the In Concert series (I've done them all!). Other productions include:
The Last Five Years, Cathy
Pirates of Penzance, Mabel
White Christmas, Betty
Annie, Grace
In concerts I've done, include:
Sweeney Todd, Johanna
Into the Woods, Rapunzel
Chess, Florence (won best actress in a musical for this role)
West Side Story, Maria
Jane Eyre, Jane
Spokane Civic Theatre: Obviously you have to be attracted to a role to want to play it, right? So what do you look for in a role? Which are your favorites?
Andrea Dawson: I look at roles that I like both musically and emotionally. I have found that every role I play resonates for me personally, so I suppose I am attracted to those roles for that reason. I have found that each time I play a role that I can relate to on an emotional level, it seems to be a cathartic experience. It's as if playing out those emotions and working through them in rehearsal and then onstage takes all my life experience and makes sense of it. It puts them into perspective and allows me to work through any emotions associated with those experiences. I feel like I come out understanding myself (and humanity) better and am stronger because of it.
It would be difficult to name a favorite because they all mean something different to me and every single one has been important to my development as a person.
Spokane Civic Theatre: What roles are you taking on this season at Spokane Civic Theatre? Thoughts on these roles?
Andrea Dawson: Betty in White Christmas
Songs for a New World
Well White Christmas is such a classic and I enjoyed it so much last time, but I wanted a chance to work under Yvonne AK Johnson this time to perform the same show, and subsequently the same role as before! It's proving to be a lot of fun to experience the differences in interpretation from director to director.
The music of Jason Robert Brown has become dear to me as it was with his show, The Last Five Years, that my acting really took off. It was the musical challenge and raw emotion behind his music that really got me hooked on doing theatre!
Spokane Civic Theatre: Tell us what brings you to theatre? What keeps you coming back to Civic?
Andrea Dawson: I have always been a singer and dancer. It only seemed natural to pair those two talents with acting and get involved in theatre. I am grateful for my talent and feel called to share it with audiences to bring them enjoyment. As a teacher, I also love the process of bringing a show to life. Not only do I learn a lot from my directors but also from other actors I work with with. It is an honor and privilege to work with such talented people and I am delighted to continue to be a part of such an amazing community theatre!
Spokane Civic Theatre: What makes In Concerts so attractive to you?
Andrea Dawson: The In Concerts are attractive because they require less physical rehearsal time while at the same time being musically gratifying. Because of the staging intensity of the In Concert it really is like experiencing a full show with less costume changes and sets but just as much musical artistry and emotional storytelling.
Spokane Civic Theatre: Anything else we should know?
Andrea Dawson: Yikes! I am so grateful to the civic community for welcoming me into the fold and I am honored and privileged to be able to share my gifts with the civic audiences!
For more information about other productions this season, please visit Spokane Civic Theatre's Website and check out twitter! We're constantly updating the Spokane Civic Theatre Facebook Page with the latest and greatest. And reserve your seats now for the rest of  Season to Inspire with shows like White Christmas, Escanaba in Love, Next to Normal, On Golden Pond, Treasure Island, The Dixie Swim Club, Grease and more.