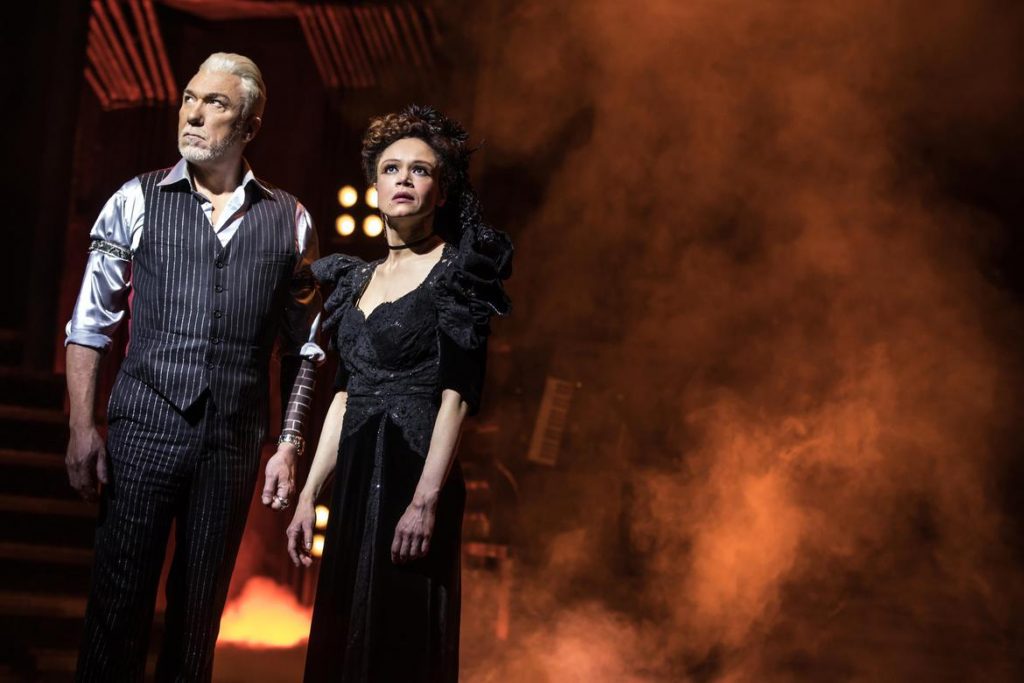 As the opening song of the Broadway musical "Hadestown" tells us, on the road to hell, there's a railroad station.
And for Patrick Page, the actor who rules the underworld as Hades in the acclaimed production now running in New York, the first station he rolled into was Spokane.
It's the city where he was born and where he enjoyed early theatrical experience at the hands of his father, who was a college drama instructor. When Patrick was 6, his family relocated to Oregon and eventually settled in the small college town of Monmouth, where the family patriarch landed a teaching job at Western Oregon University (as it's now known).
The younger Page would go on to hone his considerable acting skills just down the road from the town of his birth, at Whitman College in Walla Walla, where he played Lear and Tartuffe and a host of characters classical and contemporary.
Page has been based in New York since 1993, when he made his Broadway debut in Robert Schenkkan's Pulitzer Prize-winning play "The Kentucky Cycle." In 14 Broadway productions since, Page has played cartoon villains – the Grinch, Spider-Man's nemesis the Green Goblin, Scar – and classic characters – King Henry VIII, Decius Brutus. He's been a singing candlestick and a transvestite.
Now he's a god.
'Way Down Hadestown'
The show began life in 2010 as a concept album by Vermont singer-songwriter Anaïs Mitchell. It's been called a DIY folk opera and its development has spanned years, with staged productions Off-Broadway, in Canada and England. Its Broadway run began last month, and on Tuesday "Hadestown" brought home 14 Tony Award nominations, the most of any show this season.
Directed by Rachel Chavkin ("Natasha, Pierre and the Great Comet of 1812") and set in Depression-era America, "Hadestown" is a love story about two couples, a commentary on corporate greed, and a testament to the lasting power of a good story well told.
That story is rooted in Greek mythology – the young poet Orpheus (Reeve Carney) wants to write a song so beautiful, so perfect, that it can bring the world into balance. When his love Eurydice (Eva Noblezada) dies and goes to the underworld, Orpheus follows her there to bring her back to the land of the living.
It also tells the story of Hades, god of the underworld, and his wife, Persephone (Amber Gray), goddess of the seasons whose arrival on Earth each year heralds the return of spring, and whose departure six months later brings forth fall and winter.
Our narrator on this journey is Hermes (André de Shields), the messenger of the gods who also guides souls to the underworld. Three Fates – Jewelle Blackman, Yvette Gonzalez-Nacer and Kay Trinidad – keep tabs on it all.
The show had its world premiere in 2016 at the New York Theatre Workshop, and Page and Gray were there. Their long involvement in the show dates back even earlier, to labs and workshops where the actors began their on-stage relationship. All that time in "Hadestown" has been a benefit, Page said.
"It's really allowed us to deepen that relationship," Page said. "The text for Hades and Persephone hasn't changed a huge amount. There have been way more changes for the characters of Orpheus, Eurydice and Hermes, who have all undergone pretty major transformations since the first production we did at New York Theater Workshop, but Hades and Persephone have stayed kind of constant. It's been an opportunity to get more and more relaxed with Amber, I have more imaginative material around the relationship.
"It's really about going deeper and deeper because so much of what happens in the relationship has to be conveyed non-verbally, without music, without words. You just believe you're watching this couple that has been together forever."
Page's Hades is a business tycoon with an unhappy marriage, a penchant for pinstripe suits and a voice that goes deep into Tom Waits and Leonard Cohen territory. Sarah Holdren, reviewing "Hadestown" in Vulture, referred to Page as a "human thunder sheet," and she's not wrong. When he takes his bass voice down to the lower register in songs such as "Hey, Little Songbird," you feel like he's singing from the bottom of his shoes.
Although he wasn't familiar with Mitchell's music – "to my shame," he said – it's a huge part of what drew him to the role, he said
"That's the kind of music I like, the kind of music I listen to is Tom Waits and Leonard Cohen and Joni Mitchell," Page said. "It was music that I hadn't heard on Broadway. It was something new."
Another big draw? Getting to work with Chavkin. He and his wife, actress and "Trading Spaces" host Paige Davis, saw the Off-Broadway production of "The Great Comet" and were blown away by Chavkin's work. He doesn't really have "bucket list" roles, he said. Instead he has a list of people he wants to work with, and Chavkin was high on it. So when he saw that she was doing a workshop called "Hadestown," Page set about getting involved.
"I found Anaïs' album and I listened to the role of Hades, first singing 'Hey, Little Songbird,' then singing 'Why We Build the Wall,' and I said, 'Well, I have to sing these songs,' " he said. "And I'm attracted to these kinds of characters, to these men who are larger than life, who are flawed or broken in some way, who perhaps have trouble in their love life. Those are things I really love to explore. And I've loved Greek mythology since I was a kid."
A taste for musicals and Shakespeare
The vocal comparisons to Waits and Cohen are not unwelcome to Page. They are two artists he appreciates.
"One of the reasons I think I probably like them is vocally we share similar instruments," Page said. "For someone like me who grew up not thinking there was a place for me in musical theater, it was comforting to hear singers deliver songs beautifully who didn't necessarily sound like a Broadway legit voice."
As an actor in training and as a professional, he's been very involved in classical theater and Shakespeare. "I wasn't very educated about musicals," he said. "I kind of fell into musicals by accident."
After he arrived in New York, a casting director wanted Page for the first national tour of "Beauty and the Beast," as Lumiere, the candlestick. Page wasn't interested.
"I fought tooth and nail. I didn't want to do it," he said. "And when I did it, it was the best decision I ever made, because it's where I met my wife, and I got my foot in the door of doing musicals. So I've been able to spend half my career doing musicals and half my career doing other kinds of plays, without singing."
Having that balance has been rewarding, he said, because he knows it's rare.
"I know so many actors who have the skills to do both, but for some reason no one has gotten that memo," Page said. "It's not lost on me that I'm very fortunate to be able to do both."
Singing and acting
That Page has the skills to do both should surprise no one, what with his father's influence, his natural talent, and theater passions that were planted in his youth in Spokane. "I always wanted to go to work with my dad," Page said. "That's what I grew up wanting to do. That's where the fun was."
His father, Robert Page, was hired in 1960 to teach drama and speech at Holy Names College in Spokane. Two years later, on April 27, 1962. Robert and Geri Page welcomed their son Patrick to the world. Shortly thereafter, Robert Page took over the leadership of Holy Names' theater department, staging shows such as "Blithe Spirit" and "Murder in the Cathedral," and performing as Henry Higgins in "Pygmalion." In 1965, the elder Page left Holy Names – by then renamed Fort Wright College – and joined the faculty at Eastern Washington State College in Cheney. Off campus, Page directed shows at Spokane Civic Theatre, including "Twelfth Night" and "The Devil's Advocate," and co-directed a Gonzaga University production of "Oklahoma!" staged at Shadle Park High School.
The family moved from Cheney in the fall of 1968, when Robert Page entered a doctoral program at the University of Oregon in Eugene. And while Page said he's not be back to Spokane since, he has fond memories.
"What I remember about living in Spokane as a little boy was there was a musical theater – and it may have been a dinner theater – in Coeur d'Alene, Idaho, that we used to go to," he said. "They used to dress me up in a little suit with a little bow tie and I lived for that. And I think I remember seeing 'Annie Get Your Gun,' and after I saw it we had to have the album of course, and every night before going to bed I listened to the album. So I loved musicals even as a tiny boy."
Also during summers at that time, Page had another formative theater experience. During summer breaks from Holy Names and Eastern, Robert Page would perform roles at the Oregon Shakespeare Festival in Ashland, and young Patrick would join him.
"It was magical for a little boy to sit there under the stars and watch the grownups in these colorful costumes on the stage," he said. "It was a magical place to be and to fall in love with language and poetry and with the outdoors and with acting."
As a kid in Monmouth, Page would take roles in shows that needed a boy, he said. As a teenager, he discovered a love of magic and in 1979 he was named Outstanding Teenage Magician by the International Brotherhood of Magicians. Eventually, he entered the actor training program at the Pacific Conservatory for the Performing Arts in Santa Maria, California. After completing his two years there, rather than enter a professional actor training MFA program at a school like Juilliard or Yale or the University of Washington, Page sought something different.
"I wanted to study English lit. I knew I needed a much broader education, I needed a liberal arts education. The idea of going right back into a conservatory and just studying acting or acting-related things for three or four years didn't appeal to me," he said. "And that's why I found Whitman.
"Whitman was at the top of the heap in terms of the things I wanted to do, and they also had a terrific theater program, and a terrific speech and forensics program, which was also something I was interested in. So I did an audition there and got a scholarship."
The theater program kept him quite busy. "In that little program we did 14 plays a year. So you just kept working. If you weren't acting in something you were directing. … It was fantastic. And at the same time I got to study English lit and history," Page said. "I never feel that I spent time in Walla Walla because my college experience was so all-encompassing that I spent all my time in a little town called Whitman," he said. "I rarely left the Whitman campus."
His professional career started at the Utah Shakespeare Festival, and from there he returned to Ashland for a few seasons at the Oregon Shakespeare Festival. He performed in Seattle too, and still keeps a hand in regional theater. He's an associate artist at the Old Globe Theatre in San Diego and is member of the company of the Shakespeare Theatre in Washington, D.C. For two years, he's played Scrooge at the Civic Light Opera in Pittsburgh. "I still do it when I have the opportunity, I still do regional theater," he said.
For the time being, however, he'll be thrilling audiences on Broadway at the Walter Kerr Theatre and earning rave reviews for his performance. He does television and film work, has written a play and runs an acting studio. It's all thanks to wanting to follow his dad to work, and having the chance to see good theater from a very young age.
"Just being able to go to Ashland, even after dad was no longer acting there. We were still close enough that we could go on a vacation in the summer and see a bunch of plays," Page said, "It's an incredible resource for people who live in the Northwest."
Article by Carolyn Lamberson of The Spokesman-Review
Photos by Matthew Murphy