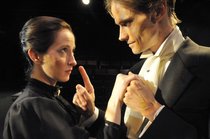 Spokane Civic Theatre will be competing in the Washington State Theatre Festival with The Turn of The Screw by Henry James.
On February 25, the public is invited to watch the final dress rehearsal before the cast and crew of The Turn of the Screw head off to compete in the State Festival.
The Turn of the Screw Dress Rehearsal for State
Where: Spokane Civic Theatre Main Stage
Cost: Donations appreciated towards the Festival Fund
When: Monday, February 25 at 7:30 P.M.
Sponsored in part by TicketsWest
Some of you may remember Civic's production of The Turn of the Screw from October of 2011. This mystery/thriller is one of the best ghost stories of all time. Directed by Susan Hardie and starring Doug Dawson as The Man, and Laticia Widman as The Woman, this production received rave reviews.
"This is true 'theater of the mind,' using nothing but words, gesture, lights and darkness (mostly darkness) to create an ominous, shadowy world." –The Spokesman-Review
For this dress rehearsal, the cast and crew will follow the rules of the state competition…
The total length of the performance may not exceed sixty minutes (including introductions, scene changes, and curtain calls)
All sets, props, costumes, musical instruments, special effects, etc. (everything utilized to present the production) must fit into a storage area that will be a minimum of 100 square feet.
Each production is allowed a maximum of 10 minutes set-up time and 10 minutes strike time, with timing beginning and ending with all actors, musicians, and on-stage personnel either in or, if necessary, immediately adjacent to the 100 square foot on-deck area.
We hope that you can come enjoy this thrilling play and support the cast and crew!
Donations can be made to:
Spokane Civic Theatre
c/o Festival Fund
1020 N. Howard Street
Spokane, WA 99201
All donations help with travel, lodging and set transport costs.
More info on Kaleidoscope 2013