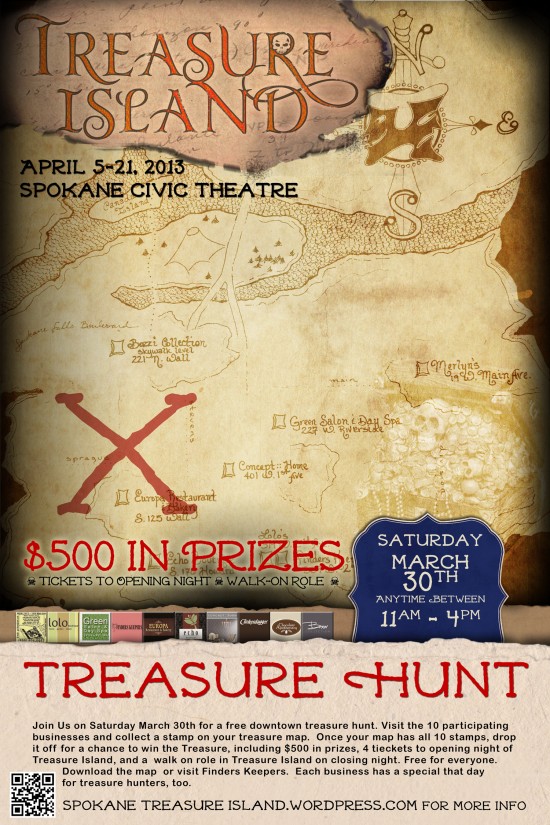 Get your swashbuckling pirate gear ready and come out for the Downtown Treasure Hunt on Saturday March 30th. Each treasure hunter will get a map of 10 local businesses in the downtown Spokane area. Visit each business and get a stamp on your treasure map. Drop off your map (with stamps) at Green Salon & Day Spa (W 227 Riverside Ave. Spokane, Washington 99201) to be entered into a drawing to win the pirate's treasure. During your pirate journey you'll also get special deals reserved for treasure hunters only. A complete listing of the businesses, prizes, and specials is available on SpokaneTreasureIsland.Wordpress.com .
What: Downtown Treasure Hunt
Where: Downtown Spokane
When: Saturday March 30th – anytime between 11am – 4pm
Prizes: Over $500 in prizes, including a walk-on role for Treasure Island at the Spokane Civic Theatre on closing night, 4 tickets to opening night, and tons of gift cards to local businesses.
What to do: Visit the 10 downtown businesses on the treasure map and get a stamp at each stop. Once you've completed the hunt, drop your map off at Green Salon & Day Spa for your chance to win the Pirate's treasure.
Bonus: Each business on the stop has a special that day for people on the treasure hunt. From 20% off, to swag, to free dessert with lunch – you'll make out with pirate loot.
Maps: Stop by Finders Keepers (309 w. 2nd Spokane, Washington 99201) on Saturday March 30th to pick-up a Downtown Treasure Hunt map OR print your own map from SpokaneTreasureIsland.Wordpress.com