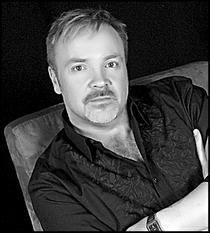 He will be remembered by many for his love of life, delicious cooking, generous heart and strong opinions.
Countless others will remember his many roles on stage where he made the audience laugh, cry, and fall in love. We may have all met David at different times in our lives, and traveled in his endless overlapping circles of friends, but we all knew the same man. Nothing anyone says about him will surprise anyone else. Did he make you a wedding or birthday cake? Did he dance with you? Did he give you advice or debate with you? Did he turn his shoulder and look at you, begging for a quick back scratch? If you knew David, it is likely he fed you in more ways than one. He took care of us all.
David grew up on Spokane's South Hill the youngest son of Roger and Lorene Gigler. He has left his four brothers, Roger (Maureen), Thomas (Kathleen), Daniel (Valerie), James (Lori) and his many nieces and a nephew. He attended Lewis and Clark H.S. where he played cello for the orchestra and center for the football team. After spending time as a professional waiter, David began a career in health care at Rockwood Clinic and advanced to a Dialysis Technician. At the bar one night, David, along with his best friend, Heather, decided over shots that they wanted to pursue Doctorate degrees in Pharmacy. They both graduated from WSU's PharmD program in 2007.
David was happy – happy that his childhood friend, Susan, had come back to be in his life, that he was going to be pretty in his upcoming show and women in the audience would envy his shoes, that he was always right, that he could say "poop" whenever he wanted to, that he could harmonize, and that he knew Latin names of plants.. He was happy that his house and yard were "gorgeous" (and sparkly). He loved a Maker's Mark and a cigarette, a decent cooking pan, a great chef's knife , an iced quad vente Americano, good grooming, a massage, and sexy cologne.
David had such a large capacity to love, but there was no one he loved more than Troy, his partner of 21 years. They met and fell in love in 1991 (despite Troy wearing patchouli, beads and Birkenstocks) and over the following 21 years they created magic—in the theater and out, and were, together, the center of the best, quirkiest and most loving family-tribe. It is hard to imagine one without the other- Troy and David, David and Troy… Surrounded by a company of close and devoted friends, they were blessed to have the love, support and humor of their longtime friends, Patrick and Heather. David was fiercely loyal, unflinchingly loving and always willing to tell a good joke at the expense of his friends. He lived his life deliberately and genuinely such that he had no regrets.
Please look after this bear. Thank you.
Services will be held at the Spokane Civic Theatre, Saturday, June 30th, at 4:30 p.m. In lieu of flowers, please send donations to the David Quinton Gigler Scholarship Fund at Global Credit Union at 1520 West Third Avenue, Spokane, WA 99201.
http://www.spokesman.com/stories/2012/jun/27/obituary-gigler-david-quinton/