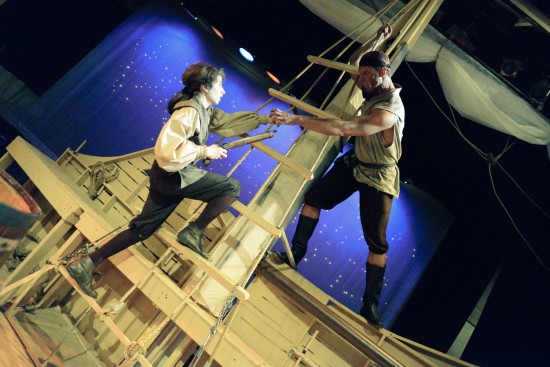 Photo by Chris Wooley
It's safe to say that "Treasure Island" is one of the most influential pieces of genre literature ever produced. Since its publication in 1883, elements of Robert Louis Stevenson's swashbuckling tale have become so ingrained in popular culture and have inspired an untold number of adventure yarns, and the book itself is mostly responsible for dozens of storybook clichés, from pirates with peg legs and parrots on their shoulders to treasure maps where "X" so helpfully marks the spot.
The notion of taking to the high seas in search of a long-dead pirate's buried riches is one that still resonates with modern audiences, and it's that universal appeal of peril and excitement that makes "Treasure Island," despite its myriad iterations, a timeless classic.
So how do you take such a well-worn story, one that has been adapted countless times for the screen and is still assigned as school reading, and render it compelling on the stage? Well, it's all in the delivery, and if the energy of the production is high enough, the familiarity of the story gives way to that childish sense of wonder comparable to reading Stevenson's tale under the covers with a flashlight.
The Civic Theatre's interpretation of "Treasure Island," directed by Christopher Wooley, is a lot of fun, cranking the energy level all the way up to 11. You're not going to see anything unexpected or entirely original, but anyone who expects to experience transcendence from an adaptation of "Treasure Island" needs to adjust his or her priorities.
Ken Ludwig's script follows Stevenson's blueprint pretty closely. We begin sometime in the mid-1700s, where young Jim Hawkins (Evan Lee Achten) has taken over the ownership of his dead father's saloon. One of his patrons is a crusty sea dog who dies one night on the bar floor, leaving Jim a map that supposedly points directly to the long-forgotten treasure of the fabled Captain Flint. This, of course, leads to Jim's introduction to legendary buccaneer Long John Silver (played memorably by Damon Mentzner), who convinces Jim to let him join his crew but is really just after Flint's treasure for himself.
"Treasure Island" is heavy on swordfights and dangerous chases up ship masts, but there's no real peril, of course – after all, this is a family show. There are some nicely staged skirmishes and a few exciting gunbattles, but I think the show works best, surprisingly, when it goes for laughs. I particularly enjoyed the fringe characters used primarily for comic relief, such as Squire Trelawney (Ron Ford), who uses his wealth to disguise his own bumbling, and Ben Gunn (Delvone Bullis), one of Flint's former crewmen who has gone slowly insane marooned on the island. And there's a goofy visual gag involving a (bloodless) severed head that is particularly inspired.
The whole production is a lot of fun: Sure, you know exactly where this story is going from the first scene, but there's something about a simple story heavy on clashing swords, treasure hunts, mysterious islands, and old-fashioned, shiver-me-timbers pirate action that inspires within us that glow of nostalgia for childhood.
I know I'm not the only young "Treasure Island" reader who relished stories about a smart, industrious kid outsmarting the grown-up bad guys and saving the day. Civic's version has that sense of good-natured excitement, and as an early spring excursion for the whole family it fills the bill nicely.
Nathan Weinbender, The Spokesman-Review
April 7, 2013