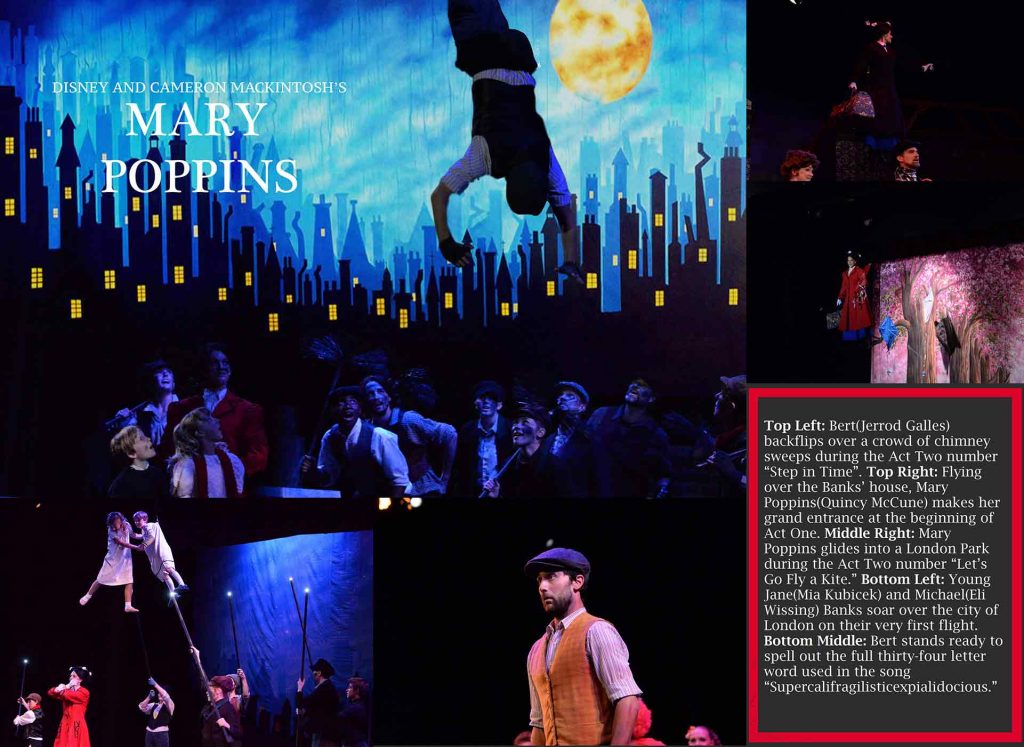 Opening the 2018-2019 Civic Theatre season was Disney and Cameron Mackintosh's Mary Poppins, directed by Troy Nickerson and choreographed by Heidi Cartwright. The classic production is about Jane and Michael Banks (portrayed by Mia Kubicek and Eli Wissing), and their refusal to work with any nanny. Their list of attributes for the perfect nanny comes to life within the character of Mary Poppins (Quincy McCune). Her and her friend Bert (Jerrod Galles) take the children on many magical adventures, teaching life long lessons to the entire family.
Throughout the many different musical numbers and scenes, each character is brought to life on stage. This includes Mary's use of "magic," including intense lighting and practically perfect timing, to win over the children. Whether it be pulling a hatstand and potted plant out of a handbag, or flying over houses and parks within London, magic is prevalent throughout. The process of flying the actors in the show was made possible by a company called Fly by Foy, who have worked on productions of Mary Poppins from from Civic to Broadway.
To fly the actors was stressful for both the theatre and the actors. With months to prepare this show, the actors only had the week before opening to actually fly with the the system. This included three separate days for each actor and their scenes. One day for Bert, one for Mary, and one for the kids and Mrs. Andrews. According to the actors, their preparing consisted of learning the use of their harness, learning the do's and don'ts, and bringing them up and practicing! Jerrod Galles points out that there, "Wasn't much practice you could do on the ground. You just kinda had to do it." The overall consensus of the flying is, in the words of Eli Wissing, "Wow!" and Mia Kubicek, "It's so much fun!"
Mary Poppins is a magical adventure and is incredible to witness the amazing feats before your very eyes. It is a rarity to say that you saw someone walk up the proscenium arch of a theatre. The Spokane Civic Theatre pulls off the show in so many ways, from the phenomenal set, to the outstanding cast and crew.
Article and photographs by Logan West, Mead High School class of 2019.
Logan's Spokane Civic Theatre credits include RADAR (2017), West Side Story, Hello, Dolly!, and the upcoming Elf The Musical.