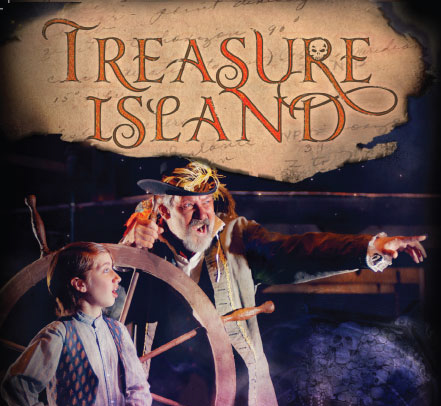 Shiver me timbers! Announcing the cast of Treasure Island at Spokane Civic Theatre!
Jim Hawkins – Evan Lee Achten
Long John Silver/Jim's Father – Damon Mentzer
Dr. Livesey/Captain Flint – Jeff Sodestrom
Trelawney/Bailiff – Ron Ford
Captain Smollet/Blind Pew – R. Travis King
George Merry/Bailiff's Son – Jeremy Lindholm
Israel Hands/Calico Jack/Bailiff's Son – Evan Clements
Billy Bones/ Ben Gunn/ Sailor – Delvone Bullis
Black Dog/Job O'Brien/Trelawney's Assist – Bryan Durbin
Jim's Mother/Anne Bonny – Sarah Miller
Justice Death/Widow Drews – Kari Mentzer
Boy/Tom Morgan/Cut Purse/Ezekiel Hazard – Jesse Johnson
Rathbone/ Rev. Mainwarning/Josiah Bland – Daniel Baumer
Ensemble/Backstage: Ken Farr, Daniel Griffith, Lulu Stafford
Treasure Island
April 5 – 21 on the Main Stage
Directed by Chris Wooley
Tickets on sale now!
By Ken Ludwig
Based on the book by Robert Louis Stevenson