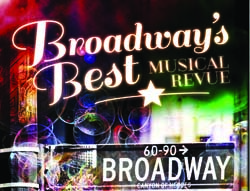 Congratulations to the cast of our annual fundraiser, Broadway's Best Musical Revue: Easy to Love (in no particular order):
April Leigh Jacobson
Corliss Newman
Emily Jones
Ellie Tappa
Katy Vancil
Alyssa Day
Sarah Bennett
Heidi Santiago
Martin Sanks
David McCarthy
Kyle Ross
Carson Brock
Nathan Hoyt
Bryan Agee
Malachi Burrow
Sierra Parrins
Alexa Aaseby
Henry McNulty
We thank everyone who auditioned, you were all absolutely amazing. You made our job very hard and we thank you for that.
Broadway's Best Musical Review: Easy to Love will be a two-night event, April 25-26, on our Main Stage!