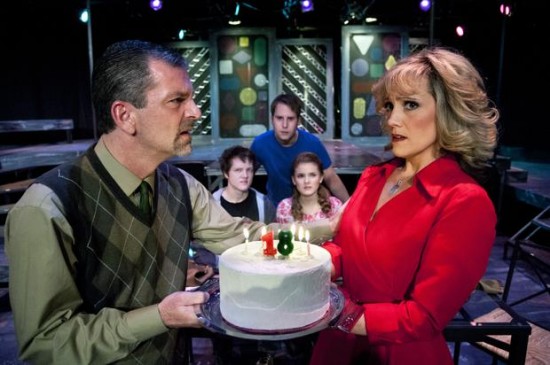 "Next to Normal" comes to the Civic Theatre with quite a pedigree: The drama by Tom Kitt and Brian Yorkey won three Tony Awards during its original 2009 Broadway run, including one for best actress and one for best score, as well as the 2010 Pulitzer Prize for drama, a distinction only eight other musicals can match (most recently "Rent" in 1996).
It's a tricky number to pull off, a mostly sung-through rock musical about mental illness. Much like its central protagonist, "Normal" careens from one emotional peak to another, from gallows humor to teenage romance to suburban tragedy, sometimes within the same scene.
A single wrong step could be devastating to the integrity of the story and the legitimacy of the characters. But this Civic production, directed by Yvonne A.K. Johnson, does justice to the material; the music maintains its original power, the staging is dynamic and the performances are compelling.
The story concerns the Goodman family, who maintain a veneer of domesticity despite the fact that wife and mother Diana (Heidi Santiago) has suffered from bipolar disorder for 16 years. Her husband, Dan (Mark Pleasant), practically ignores his wife's unpredictable behavior, while her overachieving teen daughter, Natalie (Morgan Keene), is mortified by it.
Other than her frequent visits to an overzealous pharmacologist (Charles Fletcher) – "He knows my deepest secrets; I know his name" – the person Diana is closest with is her son, Gabe (Robby French). Unfortunately, Gabe's merely a figment of her fractured imagination, the real Gabe having died in infancy. As Diana's sanity wanes, Gabe's apparition becomes increasingly insistent that he is, in fact, alive.
The push-and-pull between husband and son becomes the primary conflict of "Next to Normal," as Diana has to consider who really has her best interests in mind. Is it Dan, who wants her to undergo electroshock treatments, or Gabe, who is convinced that emptying her pill bottles into the trash is the best solution? She has them on each of her shoulders, though we're not sure who is the angel and who is the devil.
Meanwhile, Natalie's burgeoning relationship with an outcast named Henry (Mitch Heid) is on the fringes of the story, as is her experimentation with the same prescription drugs that have numbed her mother.
In the role originated by Alice Ripley, Santiago is particularly memorable as Diana, a role that requires tremendous range, wildly unhinged and deeply vulnerable.
After a round of electroconvulsive therapy that practically wipes her memory (she initially doesn't recognize her daughter), Diana begins to piece together her past. Despite Dan's best efforts to hide Gabe's existence from her, she begins to remember him. The moment when they finally confront and cope with his death is a powerful one.
The real discovery in the cast, though, is Keene as Natalie. At 15, she has the dramatic and vocal range of an actress twice her age and experience. Santiago and Keene share one of the show's most effective moments, as Diana finally confides in Natalie and repents her mistakes as a parent. It's one of the quietest scenes in the show, highlighting the intimacy and credibility of the performances.
"Next to Normal" is not always pleasant. But the cast rises to the challenge of the difficult topic, complicated musical arrangements and tricky vocal harmonies of Kitt and Yorkey's score.
The Goodman family story doesn't end on the most uplifting of notes, nor are all its loose ends tied up. But "Next to Normal" does leave us with a glimmer of optimism. And sometimes, as in real life, that's the most we can hope for.
Nathan Weinbender, The Spokesman-Review
Photo by Dan Pelle