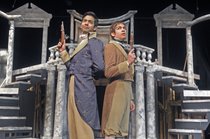 Theater review: Ex-sailor in 'Count' has vengeful new identity
Tracy Poindexter-Canton The Spokesman-Review
Based on the literary masterpiece, "The Count of Monte Cristo" spins the ultimate tale of treachery, romance, adventure and revenge.
Yvonne A.K. Johnson effectively directs the Spokane Civic Theatre's production of Alexandre Dumas' mid-19th-century adventure novel, adapted to the stage by Charles Morey. Set mostly in France following the fall of Napoleon Bonaparte's empire, the story focuses on Edmond Dantes, a merchant sailor who is falsely imprisoned, manages to escape from jail, retrieves a fortune of buried treasure, and devises a grand scheme of revenge on the men who conspired against him.
As Dantes, Paul Villabrille masterfully conveys the protagonist's radical shift of character. He exudes innocence and naivete while locked away in the Chateau d'If prison with Abbe Farria, the wise and fatherlike "mad priest" (deftly portrayed by Peter Hardie), and radiates vengeance, detachment and cynicism while smirking and schmoozing with the upper echelons of French society as the wealthy and extravagant count of Monte Cristo.
Through the use of charming wordplay, he provides comic relief to the play's mostly solemn script throughout the second act. Uproarious laughter greeted him during Friday night's performance of the Bedroom of Valentine de Villefort scene as he prescribed fake poison to de Villefort's teenage daughter, Valentine (Frances Charles), in order to reunite her with her forbidden true love, Maximillian Morel (Dexter Caukins). When Valentine informs the count of her unfamiliarity with the story of Shakespeare's "Romeo and Juliet," he humorously assures her that "this will end better."
Striking performances by other cast members include: Nancy Gasper as Dantes' timid fiancée, Mercedes; Dalin Tipton as Fernand Mondego, Dante's jealous-hearted, villainous rival; Damon Mentzer as the greedy and ruthless Eugene Danglars; and Chris Taylor as the corrupt deputy crown prosecutor, Gerard de Villefort.
Other highlights include: thrilling sword duels choreographed by Bryan Durbin; costumes by Jan Wanless accurately depicting the post-French Revolution period's more informal, less aristocratic fashions; and attractive set and lighting design by David Baker.
While the show diverges somewhat from the original plot, it remains true to the central themes of Dumas' epic novel – justice, revenge, mercy, hope, forgiveness and divine power – and sticks more to the original story than its most recent movie adaptation, directed by Kevin Reynolds in 2002.
Though tough to follow at times, especially for those with little background knowledge of the story and its characters, top-rate delivery of the timeless material by the Civic's cast and crew manage to keep the audience intrigued.
http://www.spokesman.com/stories/2012/feb/26/ex-sailor-in-count-has-vengeful-new-identity/