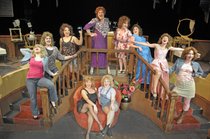 Spokane Civic Theatre director Marianne McLaughlin and musical director Benjamin Bentler deliver a satisfying version of Carol Hall's musical "The Best Little Whorehouse in Texas," chock-full of spot-on comedic timing and catchy honky-tonk melodies.
The 1978 musical comedy was a winner of numerous Tony and Drama Desk awards and was adapted into a 1982 film of the same name starring Dolly Parton, Burt Reynolds and Dom DeLuise. Based on the book by Larry L. King and Peter Masterson – and a real-life brothel that existed in La Grange, Texas – the show tells the story of a beloved Texas brothel, the Chicken Ranch, that the town sheriff fights to keep open when an investigative TV reporter threatens to get it shut down.
As Chicken Ranch proprietress Mona Stangely, Phedre Burney-Quimby presents a stern yet compassionate, savvy businesswoman, and exhibits a significantly toned-down version of the character compared to Parton's bubblier movie portrayal. Adorned in big red curls and a Bob Mackie-style glittery gown, she soulfully croons the importance of decorum to her employees in "A Lil Ol Bitty Pissant Country Place." Her performance is complemented by the cheery and highly hospitable Chicken Ranch "sales" girls (Michelle Philbin, Aubrey Shimek, Lindsey Johns, Tabitha Revis, Angela Pierson, Beth Carey Raleigh, Lexi Hoffpauir and Lacey Bohnet) and the devoted ranch housekeeper, Jewel, played by Emily Calasopa.
A cross between Uncle Sam and Jerry Lee Lewis – with his patriotic suits and fluffy white hair – Mark Pleasant provides a crowd-pleasing rendition of watchdog TV reporter Melvin P. Thorpe, a character based on real Houston reporter Marvin Zindler. Thunderous applause greeted him during Friday evening's performance of "Texas Has a Whorehouse in It," in which Thorpe does spastic ballet leaps across the stage and overdramatically addresses his substantial entourage of crazed crusaders.
In the role made famous by Reynolds, Scott Miller embodies the quick-tempered/hothead Sheriff Ed Earl Dodd, who can spew swear words faster than a speeding bullet. During the Capitol Building scene, he hysterically clutches Thorpe by the lapels and pulls him nose-to-nose in order to yell in his face, and then reveals a softer side during his gentle and pleasant rendition of "Good Old Girl."
Audience favorite Lance Babbitt gives a show-stopping performance as The Governor. Resembling Mr. Monopoly/Rich "Uncle" Pennybags, Babbitt "leads the people on" by responding ever so ambiguously to the citizens' questions; and shuffles and sways with charm during "Sidestep," commendably choreographed by Ali Wade.
Liberty Brewster also gives a noteworthy performance as Texas Twinkle Café waitress Doatsey Mae. During the song "Doatsey Mae," Brewster unearths her angelic voice as she compellingly longs for fulfillment in life.
Although I found all the dance numbers amusing, it was noticeable that some of the dancers in "The Aggie Song" struggled to execute Wade's high-energy choreography. And many of the songs enjoyable in the movie version, such as "Sneakin' Around" and "I Will Always Love You," aren't included in the show because they are Parton's own compositions.
Through its slew of over-the-top characters, foot-stompin' music and dancing, and knee-slappin' comedy, "The Best Little Whorehouse in Texas" offers mature audiences a countrified good time.