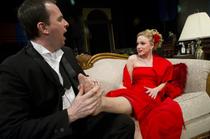 In one of his last plays, the late Dale Wasserman wondered what would happen if a new play by William Shakespeare were "discovered."
But is "The Tragedy of Alcibiades" a real work of Shakespeare? Or is it the creation of a Broadway playwright who wants to create serious works?
Spokane Civic Theatre will dive into this theater-themed comedy when it opens "Premiere!" tonight at the Firth J. Chew Studio Theatre.
The play, directed by Wes Deitrick, features J.P. O'Shaugnesey, Jason Young, Kristin McKernan, Chris Taylor, Lauralynn "Lulu" Stafford and Andrew Biviano.
Wasserman, who died in 2008 at the age of 94, wrote the Tony-winning musical "Man of La Mancha," and adapted Ken Kesey's "One Flew Over the Cuckoo's Nest" for the stage. He also wrote extensively for television in the 1950s and '60s, as well as the screenplays for "The Vikings" and "A Walk With Love and Death."
"Premiere!" was his last completed work.
Carolyn Lamberson