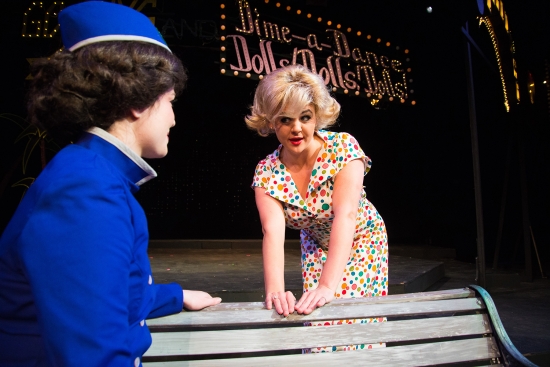 …Spokane Civic Theatre opened "Guys and Dolls" this weekend, a bright and energetic adaptation directed by Melody Deatherage and choreographed by Troy Nickerson. Based on the celebrated writings of Damon Runyon, "Guys and Dolls" drops us headlong into the bustle of mid-20th century New York City. We meet Nathan Detroit (the always dependable Patrick McHenry-Kroetch), a smooth operator whose illegal craps games, held in a different secret location every week, have made him an underground legend and a primary target of the police.
In order to pay a security deposit on a proposed gambling site, Nathan places a bet with reckless gambler Sky Masterson (a cool and calculated Andrew Ware Lewis): Nathan will choose a random woman on the street, and Sky must convince her to have dinner with him in Havana. If she turns him down, he has to pay up….
I mentioned that the female characters are the most interesting in "Guys and Dolls," possibly because they refuse to be sidelined by the shortsighted gender politics of the era. Barton as Adelaide and Murphy as Sarah demand your attention whenever they're onstage, and they make the most of their big solos…
Although its physical design is relatively simple, the Civic's production pops from a visual standpoint, with its candy-colored zoot suits and pop art-inspired dresses. David Baker's set, an abstract collage of light-up marquees and neon signs, visually suggests the bustle of 1950s Times Square through its economic design. Particularly memorable is Sky and Sarah's excursion to Havana, which is lit with an evocative red glow and features cool geometric palm trees that seem to glow in the dark.
Preview by Nathan Weinbender, Spokesman-Review.
Read the rest of the review online.
Photo by Chris Wooley, Heads and Tails Photography