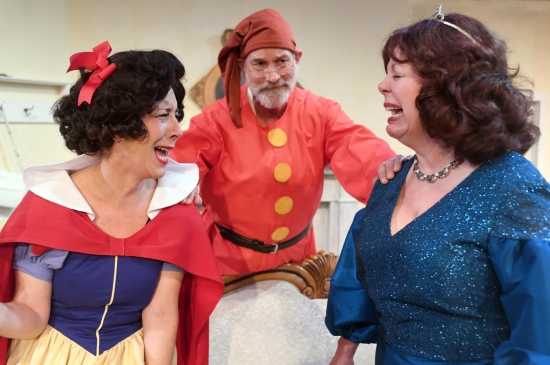 The characters in Christopher Durang's play "Vanya and Sonia and Masha and Spike" are either named after or inspired by figures in the canon of Anton Chekhov, and the plot synthesizes elements from a number of works by the Russian playwright: "The Seagull," "The Cherry Orchard," "Three Sisters" and, of course, "Uncle Vanya."
But this isn't some kind of postmodern send-up or cheap parody. "Vanya and Sonia and Masha and Spike," opening at Spokane Civic Theatre on Friday, is an original study of eccentrics who are forced to confront their own eccentricities. It's also a pretty wild comedy.
The play is set in a Pennsylvania farmhouse where brother and sister Vanya (Thomas Heppler) and Sonia (Mary Starkey) oversee the property. Their serenity is disrupted by the appearance of their sister, Masha (Molly Allen), a fading actress whose fortune is keeping the family estate afloat. She's brought along her much younger boyfriend, Spike (Jonah Taylor), who always seems to be in various states of undress.
"It's absurdly comical," said Heather McHenry-Kroetch, who directs the Civic production. "It's a funny show, and it's sometimes insightful."
As Masha, Allen, best known as a morning DJ on 92.9 FM, is making her Civic debut, although she's appeared on other local stages over the years. The last time Allen appeared on a local stage, it was in Ignite Community Theater's "On Shaky Ground," which she wrote.
"I haven't done a huge part like this since 1998 at the old Interplayers," Allen said. "I wanted to get back on stage. I raised my son and was helping raise my grandson and didn't have time. And I really was so afraid of auditioning that I wrote my own play.
Read the rest of the preview here.
Preview by Nathan Weinbender of the Spokesman Review
Photo by Jesse Tinsley of the Spokesman Review