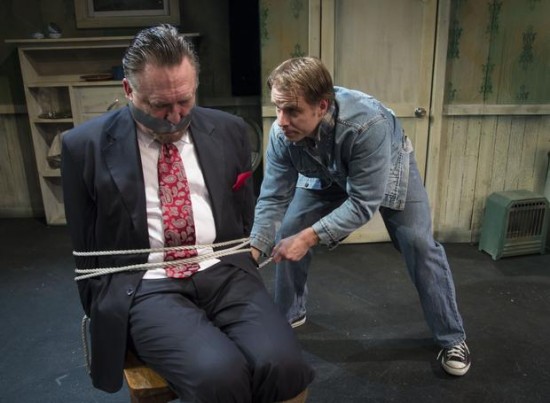 [Orphans] opens tonight at Spokane Civic Theatre, and director Marianne McLaughlin says the show's deliberate shifting between humor and heartache is part of its strange appeal.
"It is a black comedy in a lot of ways, but it's very dark," she said. "I mean, you have to have some relief. There's some great humor in this, but then you're also dealing with … the idea of being an orphan and what that entails, and the idea of being abandoned and how that affects your life. … There's some wonderful, funny banter that goes on, but there's always that dark side, going from something very funny – as we do in our own lives – to something much more serious."
The story concerns two 20-something brothers, one of them street-wise, the other a recluse. The hermit is Phillip (Maxim Chumov), who, believing he's plagued with deadly allergies, rarely ever leaves the row house apartment he shares with his older brother Treat (Billy Hultquist). While Treat, a petty thief, leaves the house every day, Phillip spends his time in a closet with his dead mother's clothes, and everything he knows about the outside world comes from the things he reads in books and the reruns he secretly watches on TV.
The brothers' daily routine remains etched in stone, until Harold (Jamie Flanery), a shady older man Treat brings home after meeting him in a bar, enters their lives.
...
Because the action of "Orphans" is limited to a single location and features a cast of three, much of the emotional weight falls on the shoulders of the actors, who must command attention at every moment. McLaughlin praises her cast, and she says that working with Chumov, Hultquist and Flanery in sculpting the characters' complicated back stories helped shape the final product.
"It's been a really wonderful collaboration, and they've really thrown themselves into these characters," McLaughlin said. "You hope that by the end of the show the audience cares about these characters, and maybe, in some way, they see themselves or something they've experienced in these characters."
-Nathan Weinbender, Spokesman-Review
Read the rest of the preview online.
Photo credit: Colin Mulvany, Spokesman-Review
(emphasis added)