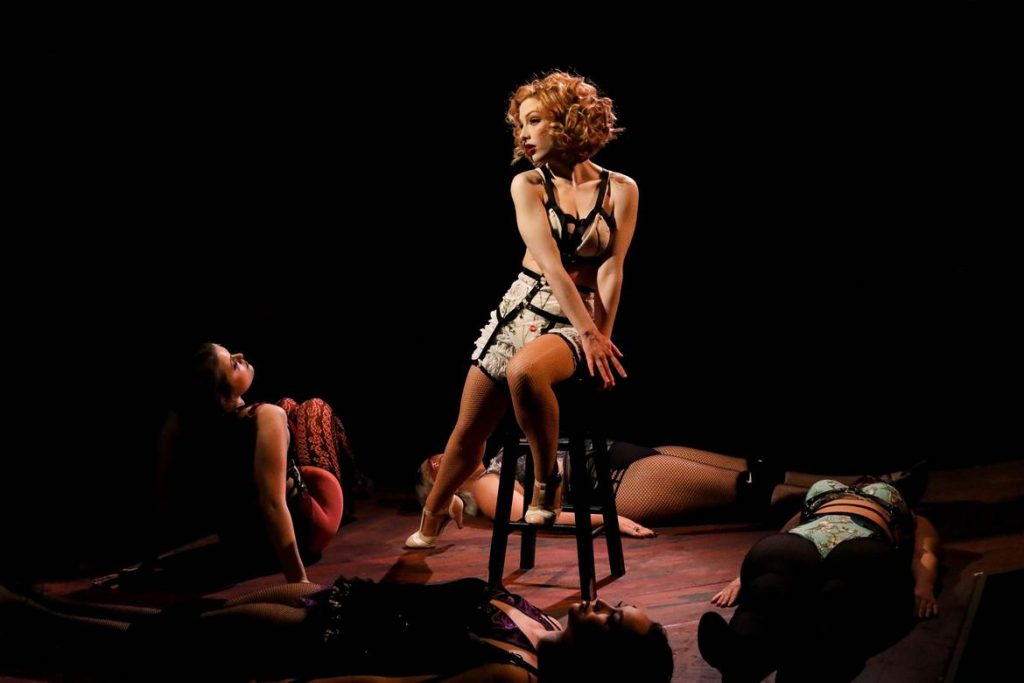 This weekend, Spokane Civic Theatre will open its studio production of "Cabaret," John Kander and Fred Ebb's beloved and societally confrontational tour through the seedy, vaudevillian nightlife of 1930s Berlin.
Set in the aftermath of Germany's Weimar Republic, "Cabaret" is based on John Van Druten's play "I Am a Camera" adapted from Christopher Isherwood's 1939 novel "Goodbye to Berlin."
Audience members familiar with the 1972 film of the same name starring Liza Minnelli might be surprised by some of the drastic plot differences between the two, but the driving message remains unchanged.
The story follows Sally Bowles (Aubree Peterson), a British cabaret singer, and a group of Berliners as they more or less avoid facing the strange new reality toward which the country is headed.
"The show is still so relevant," Peterson said. "I wanted to be a part of it in any way I could. It's an important piece of theater, and the music – I just couldn't keep myself away from the show."
"Willkommen, Bienvenue, Welcome!" the emcee (Mathias Oliver) greets the international guests of the Kit Kat Klub as he and the other cabaret performers begin the evening's entertainment.
At a nearby train station, we are introduced to Cliff Bradshaw (Joshua Baig), an American writer working his way through Berlin. While looking for a boarding house, Cliff meets Ernst Ludwig (Chad Herrmann), a German hoping to sharpen his English.
Ernst takes Cliff to Fraulein Schneider's (Rebecca Craven) boarding house where after some convincing, she agrees to let Cliff stay for half price. From the boarding house, we follow Cliff back to the Kit Kat Klub.
Onstage, Sally performs "Don't Tell Mama" and a few other campy seductive numbers to uproarious applause. Cliff and Sally meet after the show, immediately taking a liking to each other. Sally's jealous boyfriend Max (Nicholas Roy Morgan), the owner of the club, notices their interaction.
"Sally has this very strong personality," Peterson said. "But she's forced to adapt as her circumstances change throughout the show. She goes through so much; you really get to see a different side of Sally. At the end of the day, she's just a flawed human with hidden feelings. I find that very relatable."
The next morning, after Max has fired Sally and thrown her out of the club, she runs to Cliff's room in the boarding house. With no place left to stay, Sally begs Cliff and Fraulein Schneider to let her stay until she can find somewhere else to go.
Also living in the boarding house we find Herr Schultz (Kim Berg), an elderly Jewish fruit-seller. A relationship begins to form between Herr Schultz and Frau Schneider; she worries about the threatening tide of anti-Jewish propaganda, while Shultz is blinded by faith in the fatherland.
"Inside the club everyone is indifferent," Peterson said. A sinister reprise of the emcee's "Willkommen" hints that this indifference will only intensify, the clubgoers sinking deeper and deeper into the bleakly decadent party culture of Berlin.
As the play unfolds, the action is intermittently interrupted by musical numbers on the Kit Kat Klub stage, always metaphorically significant to the surrounding dialogue.
The majority of these showcase the widespread apathy and social indifference of post-Weimar Germany. Songs like "Tomorrow Belongs to Me" and "If You Could See Her" illustrate how easily and insidiously the seeds of fascism were planted.
"I think the biggest theme is forcing yourself to look beyond the surface," Peterson said, referencing the willful ignorance of Herr Schultz. "All of the characters are affected by what's happening, but a lot of that is under the surface – it isn't shown right away."
Article by Stephanie Hammett of the Spokesman-Review
Photo by Emma Ostrom Photography