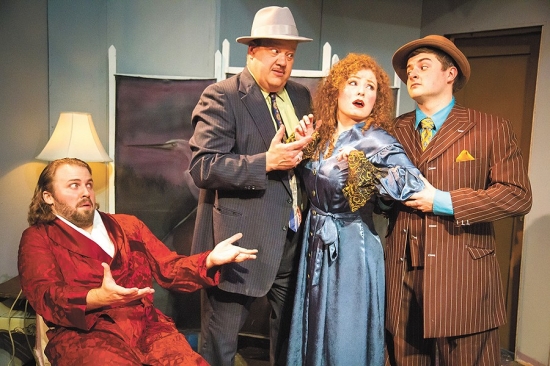 In his first official production as the Spokane Civic Theatre's new resident music director, Henry McNulty is working alongside director Melody Deatherage and choreographer Heidy Cartwright on Cole Porter's Kiss Me, Kate. Not unlike Noises Off, the show that immediately preceded it on the Civic's main stage, Porter's 1948 musical (with a book by Samuel and Bella Spewack) revolves around a nested play — in this case, Shakespeare's The Taming of the Shrew — and all the zany backstage drama in which its cast is embroiled.
"I am coming to this as a Cole Porter fan," McNulty says. "I think he is easily among the strongest composer-lyricists in the history of American musical theater, and also in American popular song. The sheer number of standards that he wrote is mind-boggling on its own, and it's impressive the number of them that are unexpectedly in Kiss Me, Kate."
Thanks to earworms like "Too Darn Hot," "Tom, Dick or Harry" and "Brush Up Your Shakespeare," McNulty describes it not only as Porter's "best-known" musical along with Anything Goes (1934) but a "shining example of his work, because it's his first integrated musical in which the songs are part of the story, rather than being a collection of songs around which a story is loosely written."
That story and its show-within-a-show conceit "gave [Porter] the opportunity as composer and lyricist to create something really unique," McNulty says. "Part of what makes the score so engaging is that the audience and the actors are both going back and forth between these worlds — not only within the story but within the score as well.
"It creates a lot of interest and diversity that you wouldn't normally get in other shows from this era," he says, broadly referring to works such as Oklahoma!, Annie Get Your Gun and Carousel.
Read the rest of the preview here
Preview by E.J. Iannelli of the Inalnder
Photo by Jeff Ferguson of the Inlander