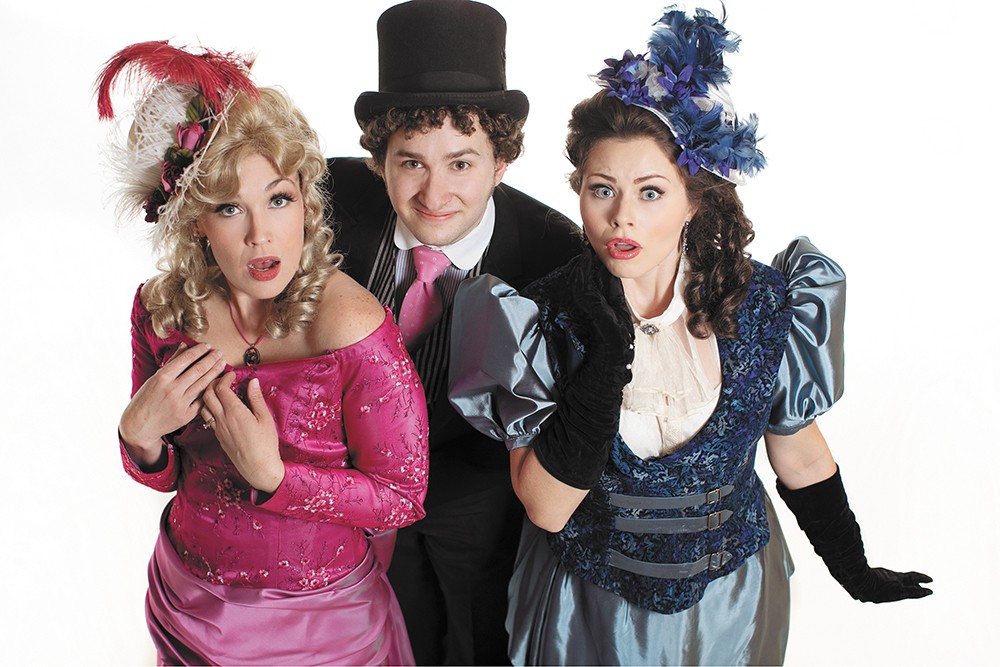 A Gentleman's Guide to Love and Murder is no place for those of weaker constitution and who may be faint of heart. It says as much in its opening song.
One reason why sensitive souls might be better off departing is that this particular musical features death. Lots of it. A reverend. A rich playboy and his mistress. A beekeeper. A philanthropist. A bodybuilder. An actress. All from the same aristocratic family. With so many funerals in quick succession, the song that opens the second act is compelled to ask, "Why Are All the D'Ysquiths Dying?"
The answer to that question, as audiences will already know, is Monty Navarro.
"With his mother's death, Monty finds out that he's a member of the D'Ysquith family. He's eighth in line to the inheritance, so he goes about killing everyone off to get to the top," says Troy Nickerson. Monty proves himself to be opportunistic and ruthless, and he rises — along with the body count — with remarkable speed from a lowly clerk to landed gentry.
Nickerson is directing the local premiere of A Gentleman's Guide to Love and Murder on the Spokane Civic Theatre's main stage, which is frequently home to showstoppers with large casts and even larger dance routines. Although A Gentleman's Guide won multiple awards for best musical after it debuted in 2013, it's not your stereotypical Broadway blockbuster. It's also a very different beast from the last show Nickerson directed on the same stage, Mary Poppins.
"Poppins was just so much more about the dance and tap numbers and flying. This show is definitely more character-driven. It's more stylized movements," he says. And the music of A Gentleman's Guide is "almost an opera" in how it's written and sung. Some of the ensemble numbers call for five-part harmonies.
"The closest thing I can compare the lyrics in this show to is Stephen Sondheim, which is notoriously difficult as far as words and rhythms go," says Joseph Hall, a recent bioengineering grad who's been cast as charming, sinister Monty. "But it's also somewhat like the [Gilbert and Sullivan] show The Pirates of Penzance. There's a song that's just continuous words, and it's almost complete muscle memory to get through it."
The songs aren't the only tricky part. A Gentleman's Guide involves nonstop costume changes because the entire D'Ysquith family is played by a single actor — in this case, Todd Kehne. There will be as many as six dressers backstage helping with his transformations into characters like Reverend Lord Ezekial D'Ysquith and Lady Salome D'Ysquith Pumphrey.
"It's a crazy show," Nickerson says. "There are only 11 people but, boy, those 11 people do a lot of things. The ensemble has 11 costume changes each, and I think Todd plays seven characters. The show just moves. I mean, it's this constant whirlwind. It has that definite farcical sense about it."
As Monty is in life, so he is in love. He finds himself moving between earnest Phoebe D'Ysquith (Lexie Lucassen) and haughty Sibella Hallward, played by Emily Jones, who comes to this production just after having wrapped up Venus in Fur at Stage Left.
"Everything that Monty does is to some extent calculated," Hall says. "At the same time, he is a person. He's subject to his own whims and desires, and to that end he makes decisions that are to his own detriment. But there is a comedic irony in that the hand of fate tends to take those decisions away from him."
And while the show's cast is relatively small for a main-stage musical, the set is anything but.
"The set that our set builder Denny [Taylor] has made is magnificent," Hall says. "It's the largest set I've seen from one of our local community theaters in a very long time. One of the cool things about it is that it's so close to the audience. It's really intimate. I do a lot of narration where I'm talking about the internal struggles that Monty is facing, and it's more like a conversation with the audience."
"Because I have this big, two-level set, I've had to force myself as a director to come up with reasons to use all the places in it," Nickerson adds. "So that's actually ended up being really cool. Finding those ways to use the set and use it well has been challenging but also forced me to be a little more creative."
Between its elaborate set, rapid-fire costume changes, demanding music and sly humor, Nickerson says that A Gentleman's Guide has given him, his cast and his production team ample opportunity to stretch their wings.
"It's a uniquely told story. It's high-energy and it's really fun. Yet it's still smart. Even in the ridiculousness of the situations, it still gives you time to make these people real and have actual moments to establish relationships," he says.
"Really, there isn't another show like this show," Hall says. "The humor is so unique. It's dark and it's niche, but it's endearing in that way."
Article by E.J. Iannelli for the Inlander
Photo by Marlee Andrews