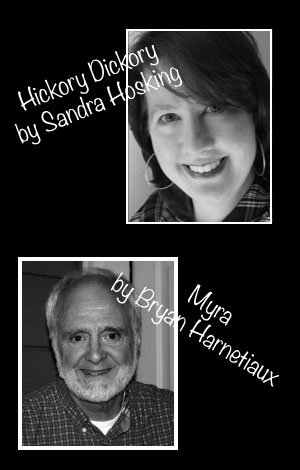 When: Friday, June 8th & Saturday, June 9th at 7:30 P.M.
Where: Firth J. Chew Studio Theatre, Spokane Civic Theatre
Hickory Dickory by Sandra Hosking
Directed by Toni Cummins
Sometimes the only thing to do when a child dies is travel through time.
In Hickory Dickory, a new full-length play by Sandra Hosking, a grieving father, Sam, travels through time to cope with the loss of his only son. As he works to finish building the time machine his late son started, his family and friends try to stop him. But the call of his son's memory is too great, and he embarks on a journey that will show him that even in the face of great sorrow, there is hope.
The cast includes Judith Albrecht, Ron Ford, Molly Parish, Brad Picard, Marshall Rochon, and Tami Rotchford.
Sandra Hosking is co-playwright-in-residence at Spokane Civic Theatre. Her work has been performed across the U.S. and internationally. She is editor of Insight for Playwrights and a member of the Dramatists Guild of America.
Myra by Bryan Harnetiaux
Directed by Susan Hardie
Myra is a short play about Myra Bradwell, and the United States Supreme Court decision in 1873 upholding an Illinois law preventing Mrs. Bradwell from practicing law because she was a woman.The cast includes: Susan Hardie, Peter Hardie, Sue Ann Harnetiaux
Bryan Harnetiaux has been a playwright-in-residence at Civic for thirty years. He has written over 35 plays, most of which premiered in the Studio Center. Thirteen of his plays have been published. His most recent full-length play, HOLDING ON~LETTING GO, received staged readings in the Studio Theatre in 2009 & 2010, and recently premiered at Fremont Center Theatre, an equity-waiver theatre in South Pasadena, California. He is a member of the Dramatists Guild.
This is a non-ticketed event. Donations at the door only. All proceeds go toward the Academy Scholarship Fund.