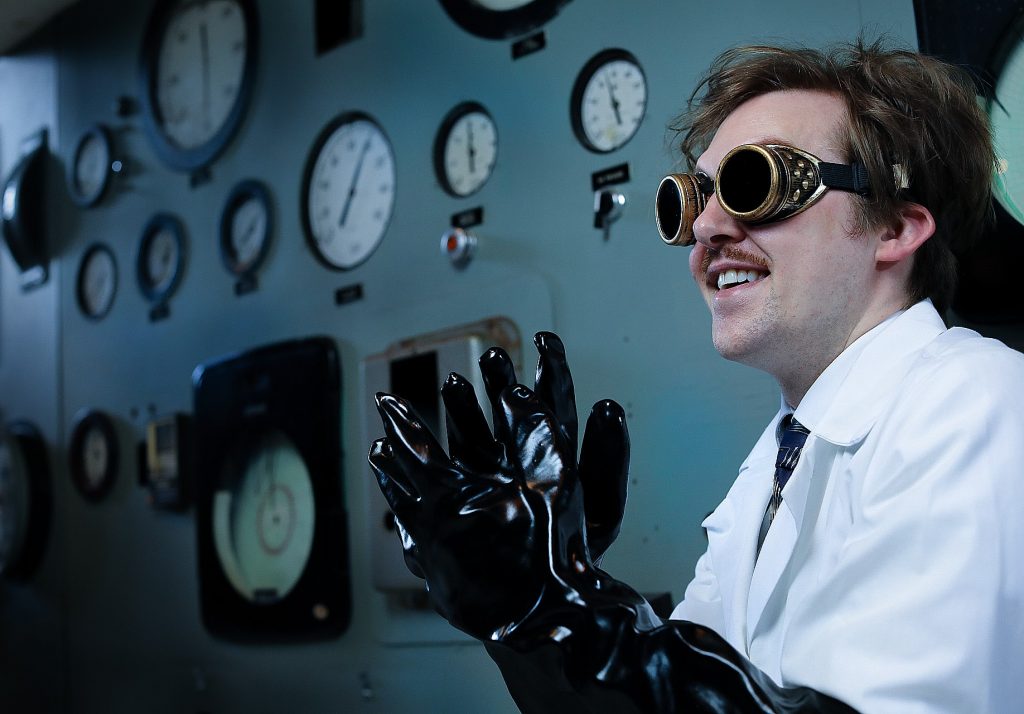 It's not at all unusual to see Henry McNulty's name in a theater program.
He is, after all, the resident music director at Spokane Civic Theatre and a talented performer who has appeared in productions like "Forever Plaid," "Million Dollar Quartet" and "The Music Man" at Coeur d'Alene Summer Theatre.
But what is unusual is seeing McNulty listed twice, as the music director and the star of the show.
So unusual, in fact, that his starring role in Civic's "Young Frankenstein" is the first time McNulty's held both roles in the same production.
McNulty said the decision to both music direct and star came down to two things: a matter of casting and his "long standing affection" for the movie on which the musical is based and Gene Wilder's performance in it.
"I wouldn't say that I'm doing a Gene Wilder impression or anything like that but it's, at the very least, an homage to what he did in the movie," he said. "It's one that I've seen many times since I was a teenager and that has always stuck with me."
"Young Frankenstein" opens Friday at Spokane Civic Theatre and runs through June 16.
The musical follows Dr. Frederick Frankenstein (McNulty), the grandson of the infamous Dr. Victor von Frankenstein (Doug Dawson), after he inherits the family estate in Transylvania.
Frankenstein is pronounced "Fronk-en-steen," mind you.
Once at the estate, Frankenstein encounters a hunchbacked sidekick named Igor (Chris Hansen) and a yodeling lab assistant named Inga (Aubree Peterson).
With their help, Frankenstein eventually finds himself trying to finish what his grandfather started and creates a monster (Drake Haren) of his own.
Of course, the monster escapes, thus kicking off a wild chain of events.
The musical, which features a book by Mel Brooks and Thomas Meehan and music and lyrics by Brooks, is based on the movie "Young Frankenstein" which was directed by Brooks and written by Brooks and Wilder.
"Young Frankenstein" is directed by Jake Schaefer, assistant directed by Sarah Dahmen, music directed by McNulty and choreographed by Cara Cooley.
McNulty said, from both an actor and music director standpoint, rehearsals have been going very well.
His main challenge is figuring out what his focus should be on at any given time.
"There's been that conflict between helping the entire cast and working on my own part, and those have to be in equal measure for my dual roles in the show to work," he said.
McNulty sees the offstage crew as playing musical chairs because of how they've changed roles during the rehearsal process as needed, which he called an experience in learning in real time.
McNulty, for instance, has shifted his attention more fully on playing Frankenstein while assistant music director and rehearsal pianist Ashley Pyle has begun to work on conducting the show.
But the cast and crew have had no trouble working through the changes.
"We have such a strong team of people with multiple talents and such a spirit of camaraderie that it allows us to get through those shifting roles," McNulty said.
As a performer, McNulty is especially excited about "The Brain," his first big number, which takes place in the medical school where he teaches. McNulty calls the tune a quick, clever patter song full of medical terms.
As a music director, in large part out of nostalgia for the movie, he's looking forward to "Puttin' On the Ritz," which features Frankenstein, the Monster, Inga, Igor and a chorus of monsters.
"That's such an iconic moment with the doctor and the monster sharing the stage," he said. "That's pretty much transplanted into the stage musical just with the addition of a few more characters and the ensemble in the background to fill it out as a full production number. Like in the movie, but a little more so."
McNulty said "Young Frankenstein," the musical, is for both fans of the movie and those who have never seen it.
But he hopes those who haven't seen Wilder's performance don't stop at the musical.
"After seeing the stage show, I would hope people would go back and see the movie just because it's worth it," he said. "They're two different iterations of the same story and they both have different things to offer."
Article by Azaria Podplesky of the Spokesman-Review
Photo by Marlee Andrews