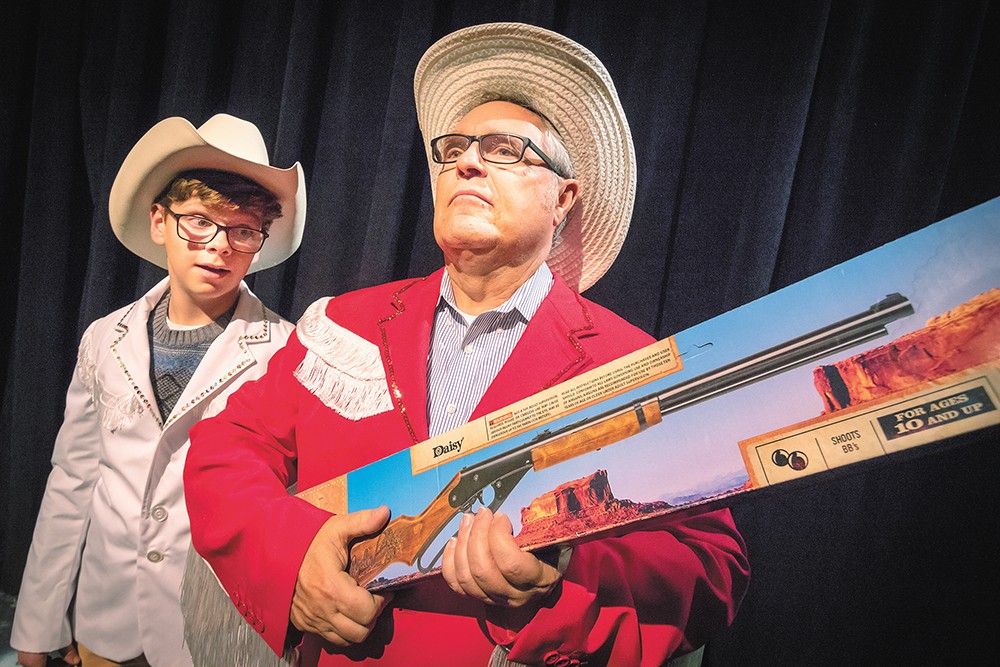 It was a 1966 book by radio personality Jean Shepherd that found wider fame two decades later as a movie on broadcast TV.
In it, a young boy named Ralphie has his sights set on a BB gun — not just any BB gun, mind you, but a Red Ryder Carbine Action 200-shot Range Model air rifle with a compass in the stock and "this thing which tells time." And so he dreams up a series of naive but imaginative ploys to ensure it appears under the tree on Christmas morning. Along the way, he has to wrestle with neighborhood bullies, a skeptical mother, an annoying kid brother and a mercurial father.
Though set in the first half of the 20th century, the motifs and characters of A Christmas Story still resonate with audiences of all generations. For many of us, it's become a sacred and immovable part of our seasonal ritual. That's equally true for Tom Armitage.
"I watch it every year during the holidays," he says. "It's stuck indelibly in my mind."
But after close to 40 years as a local high-school drama teacher, Armitage has spent his recent retirement avoiding the movie. Not because he's gone off it, but because he's trying to escape its influence as he rehearses for A Christmas Story: The Musical, which opens tonight for a one-month run at the Spokane Civic Theatre. He'd rather take the 2012 stage adaptation on its own merits.
"Like you do any role, it comes out of the text. That's the No. 1 thing."
Armitage plays the show's narrator — no small task, given that so much rests on the role. He has to be worldly enough to appreciate the wonder and innocence of youth, knowing but not sarcastic, eloquent with an everyman aura, part of the cast while also existing outside of it.
"At first, I sound like a slick radio announcer and I'm literally in a radio studio. But soon I'm up on my feet and I'm actually on the set with the family. They can't see me, but I'm right there among them. So I'm a radio announcer, but then I'm also this storyteller who has a direct relationship to the audience," he explains.
Read the rest of the article here.
Preview by E.J. Iannelli of The Inlander
Photo by Jeff Ferguson of The Inlander