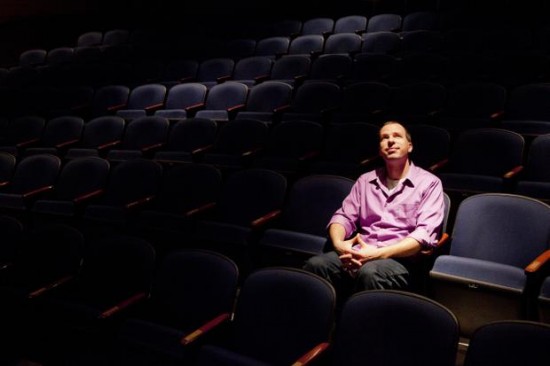 Chris Taylor missed out on the original "Let's put on a show!" musicals epitomized by Mickey Rooney and Judy Garland's 1939 MGM classic, "Babes in Arms."
Yet as the Spokane Civic Theatre's education director, Taylor carries on that tradition each summer, offering hundreds of area students a taste of acting during one- and two-week sessions that culminate in musical and dramatic productions attended by friends and family.
Besides stage terminology and how to hit their marks, campers learn patience and teamwork during the daily three-hour workshops.
Last year, 400 students attended the Civic's summer program. Taylor hopes to increase enrollment to 600 this season.
During a recent interview, he discussed his own introduction to live theater, and what's in store for youngsters at Spokane Civic Theatre Academy.
S-R: When did you discover the magic of theater?
Taylor: I went to a Renaissance fair when I was 5, and I remember how fascinated I was that everyone seemed to know what to say and do.
S-R: When did you get involved in theater?
Taylor: In eighth grade. My first school play was "How Timely Nick and Betty Brown Formed a Conglomerate" – a typical '30s gangster tale.
S-R: What did you play?
Taylor: I was the villain.
S-R: Typecasting?
Taylor: Of course.
S-R: Did you have a favorite play as a kid?
Taylor: I loved "Guys and Dolls" – the gangsters in their over-the-top Dick Tracy suits, and nothing mattered but the next score. It's dangerous and farcical at the same time, and I've always been attracted to that.
S-R: Were you a natural performer?
Taylor: I was always very shy and introverted – I still am – and drama gave me an opportunity to shed my inhibitions in a safe environment. Later, when I enrolled at the University of Central Florida in Orlando, theater was all I knew, so I majored in it. The next thing I knew, I had my master's degree.
S-R: During your career, what roles have you enjoyed most?
Taylor: My favorite high-school role was Big Jule, the ultimate gangster in "Guys and Dolls." I got my first big role with lots of lines in college – I played the lead in "The Importance of Being Earnest."
S-R: What brought you to Spokane Civic Theatre?
Taylor: I was living in Peoria, Ill., running a movie theater, when I saw on a website ( www.tcg.org/artsearch/) that the Civic Theatre was looking for an education director. So I applied. That was in October 2011.
S-R: Have you performed in any of the Civic's plays?
Taylor: I was in "The Count of Monte Cristo" and "Premier" last season, and "Escanaba in Love" this season.
S-R: What about theater surprises you most?
Taylor: It never ceases to amaze me that somehow, someway, the show does go on. Kids will arrive an hour before a show and won't know their lines and forget where they're supposed to be. And inevitably there's some crisis – last summer we had a leak the day of a performance, and the stage was covered in water. Yet the show always goes on, and goes well. I've never understood how that works, but it does.
S-R: Is the summer camp growing?
Taylor: Yes. It began about eight years ago with three children's plays. Since then we've tripled the number of plays for the little kids, added two plays for the high-school students, and now do a Main Stage performance camp in August to kick off our season. This summer it's "Joseph and the Amazing Technicolor Dreamcoat."
S-R: Who attends camp?
Taylor: Kids from all sorts of backgrounds. Some have been doing theater since they were 3, when they were the fourth angel from the left in a Nativity show, while others have never done a play in their life. Parents call and say. "I saw you're doing 'Star Wars' and my child loves 'Star Wars,' but they've never acted." No problem. We take the kids through the whole process, explain every detail and give them plenty of time to learn their lines.
S-R: How much can you accomplish in a week?
Taylor: Some campers come in Monday and don't say a word. By Friday, they're smiling and dancing, and delivering their lines with energy. Afterward, parents say, "I've never seen my child do that before. Thank you so much!" I hear that repeatedly, but it never gets old.
S-R: Since most of these kids won't have careers in theater, what's the takeaway for them?
Taylor: They learn teamwork, patience, how to listen and wait their turn. Those skills are useful in any career.
S-R: What do you like most about your job?
Taylor: Seeing kids succeed at something they never thought they could do. And the smiles on parents' faces.
S-R: What do you like least?
Taylor: The first day is always a little tricky, because the kids come in with their own ideas of what they want to do. As the teacher, you need to make sure you're the guiding force. You have to reel them in a bit.
S-R: What are you best at?
Taylor: I'd like to think I'm best at maximizing time. I structure sessions in 15-minute increments, because you're always running out of time in the theater.
S-R: Since taking over the academy two years ago, what do you consider your best idea?
Taylor: One of my favorite things to do is turn old video games into plays, which I did with "The Legend of Zelda." Parents loved it and the kids had a blast. To write a script about something dear to my heart and have kids embrace it makes me feel like I'm passing along a treasure.
S-R: Any changes on the horizon?
Taylor: We hope to get our own space within three years. Right now we share the downstairs studio with whatever show is going on there at the time. I think the studio space will eventually become Academy space, and a new theater will be added on to the building.
S-R: What advice would you offer someone who aspires to work in theater?
Taylor: Never give up. It took me seven years from when I graduated to get a job in my chosen profession. During those years, I tried to stay as close to my profession as I could – working as a YMCA camp counselor, and managing a movie theater to develop leadership skills. Stay close to what you love, so that when the opportunity arrives, you're ready for it.