Set Design
The White Office and the Not So White Office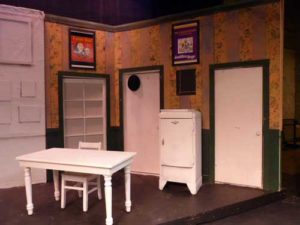 As you sit in the audience, marveling at all the singing, tapping, and general goings on on stage, do you ever wonder, just a wee bit, about the scenery and set design? Do you think, "How'd they do that?" If you've seen Spokane Civic Theatre's The Producers, did you notice the pigeons cooing in their cages, Leo's not so tidy office, Roger De Bris' um, sparkling apartment? Ok, we admit it, Mark Pleasant and Jerry Sciarrio as Leo and Max are so entertaining, it's easy to get drawn in to the story and forget about the Main Stage set design. But you had to noticed the office shift from "normal" to, well, white-washed, didn't you? How could you miss Ulla's infamous "tidy oop"…you did, didn't you? So what's the deal with the white office and the not so white office?
 "Tidy Oop"
It's Boring
Or so David tells us.
 "…the white office on The Producers' set is SEEN second so folks think it's PUT there second.  A little psychological trick, I suppose. The white walls are the permanent part of the set and the first act has the colored panels  hung in front of (and from) the white walls.  All of  the office doors flip, though.  That was a trickier job to pull off, technically. Hinges and door hardware that work from both directions in the same frame…"
And there you have it
Now you know the secret of the white office. Now, if you've not experienced this for yourself, perhaps this weekend is the perfect time to see The Producers. Spokane Civic Theatre is accepting donations of non-perishable food items for Second Harvest Food Bank. With your donation, your ticket will be only $11 (versus the normal $29, such a deal!) for shows that run Thursday, October 11 through Saturday, October 13. Call the Box Office a nab your seat now! 509.325.2507.