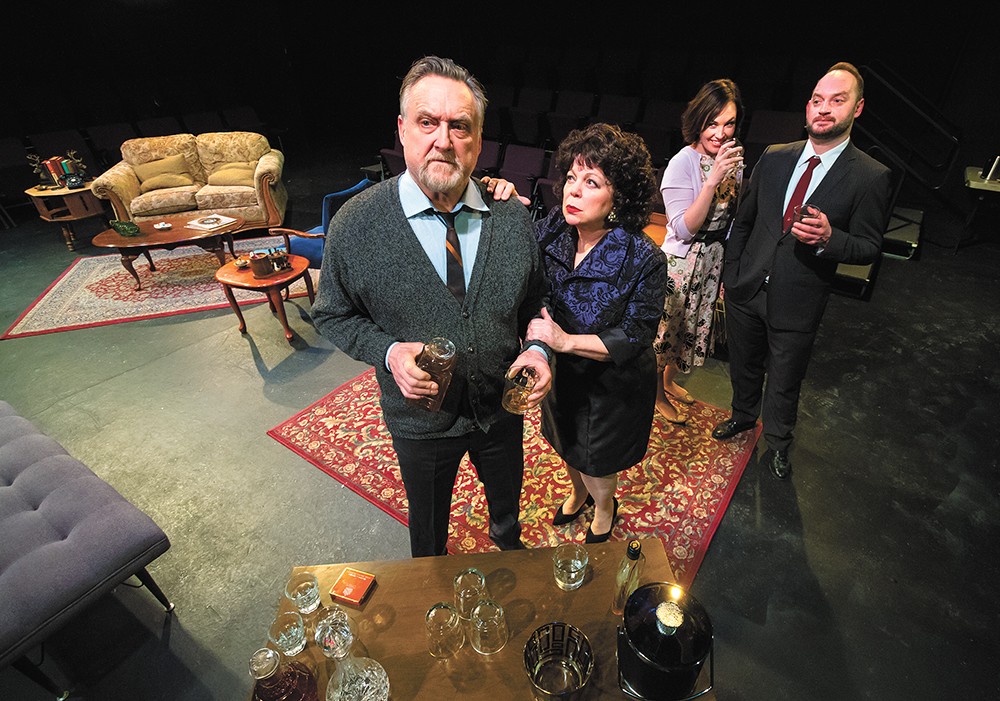 Thinking of theater in the same terms as spectator sports might not always stand up to scrutiny, but for a play like Who's Afraid of Virginia Woolf?, the reasoning is a little more sound. Although George and Martha, the middle-aged married couple at the center of Edward Albee's 1962 play, never land an actual punch, they subject one another to an unrelenting barrage of abuse, the goal of which appears to be to leave their adversary not just defeated but wholly, utterly broken.
It's a sad, twisted game, even if its rules, somewhat crucially, are supposed to be known only to them.
And like trained athletes, there's an art in the way that each of them plays that game. As might befit a professor of history — or, as Martha would insist, associate professor — at a respected college, George tends to more cerebral, using psychological setups and feints to catch his opponent off guard. His wife, on the other hand, is confrontational, with brute-force affronts designed to maim and humiliate.
"She's pugilistic, all right," says Mary Starkey, "but it comes from deep anger, frustration and sadness. You know, I heard one time that men express deep sadness as anger, and women express deep anger as sadness. I think Martha responds in a lot of ways more like a man."
Starkey is playing Martha in a new production of Who's Afraid of Virginia Woolf? in the Spokane Civic Theatre's downstairs studio space, where she'll appear opposite Jamie Flanery as George and alongside Danny Anderson and Emily Jones as the couple's unsuspecting guests, Nick and Honey. Directed by Troy Nickerson, this show will move into the round, which means that Martha and George's living room will be surrounded by the audience on all four sides. Like a boxing ring.
"It should be pretty intense," Nickerson says. He's been working with experienced set designer Matt Egan to accommodate the unconventional arrangement.
"It's just furniture in the middle, and I'm having a beamed ceiling that's just hanging free. And then there will be cutout archways, not even full arches, that will be hanging from the ceiling and go to different parts of the house. The front door won't even be a real door. It will be a cutout frame. It just puts you right in the middle of it. Now I can't even quite picture how I would have done it any other way."
Read the rest of the article here.
Preview by E.J. Iannelli of The Inlander
Photo by Jeff Ferguson of The Inlander